The last Escape Room company we visited in Berlin was Claustrophobia – one of the biggest Escape Room Franchises worldwide. We have not had a chance to play one of their games before, so we were excited to finally learn what all the "fuss" was about. Without further ado, let's get the Review started:
Claustrophobia
Berlin, Germany
Location: Grunerstraße 20, 10179 Berlin, Germany
Games (reviewed): Vault 13, Pirate's Hut
Games (not reviewed): Museum of Contemporary Art
Group: 2 People
Website: berlin.claustrophobia.com
Our Experience
We have heard a lot about Claustrophobia before coming to Berlin. Not especially about the Berlin branch – but about the Franchise in general. Claustrophobia is a Russian Escape Room Franchise that has opened locations all around the world. According to stats on their own website, they currently operate in 9 countries with over 128 rooms . The rooms are said be well designed and the pictures you can find online certainly look like a lot of money goes into their rooms. So naturally, as escape room enthusiasts, we were curious. We have had already played good franchises like Fox in a Box in Vienna – but we have not had a chance to check out Claustrophobia yet.
We could not let this chance go by and booked two of the three rooms they offer in Berlin, Vault 13 as well as Pirate's Hut. Claustrophobia Berlin is located inside of a mall next to Alexander Platz – you will find it on the third floor of the Shopping Center ALEXA. The mall is not that big – so even if you enter on the wrong side (like we did), you will figure out pretty quickly that you will have to walk to the other side, since the third floor is only accessible there.
We were welcomed by a friendly hostess, who showed us the bathrooms as well as a cosy waiting area. We got some water and waited a couple of minutes for our briefing. Shortly after, we started with the first room.
Vault 13
The story of Vault 13 is pretty cool – there was a third World War and humanity pretty much disappeared. You and your group were able to save yourself in an underground shelter called Vault 13. The Vault has kept you alive during the fallout period and after surviving for years and years, your group is ready to leave. It is time. But you face a big problem – Vault 13 will not let you out. You have to find a way to trick to very system that kept you safe for all those years to find a way out.
The room design is very well done. Sure, we have been in bunker-scenarios before. But this one looks really great – it looks like metal, you see that years have passed since this bunker has been built. It is rusty and worn out – is is really well done design wise. The room is advertised for 2 to 4 people, which is a generous assumption. There would be space for more people in the room, but since the puzzles are very linear, more people would just lead to some of the group feeling left out. The puzzles and tasks are surprisingly physical in this room – without spoiling anything, you will actually have to use some strength here and there. But don't worry, you will not need super-strength for any of the tasks – although there is an item in the room that is super heavy, so it would not hurt to have someone with some arm strength in your team.
Most of the puzzles are automated and you will not be faced with too many locks – the story progression is logical and should guide you through most of the puzzles. We needed some hints along the way, since we did not always figure out right away what to do next – but in general, we enjoyed this room quite a bit. The final puzzle in this room also works very well, as you will be able to solve it faster, if you actually remember, what the goal of the room is. We escaped successfully, although we came pretty close to being locked up in the Vault forever.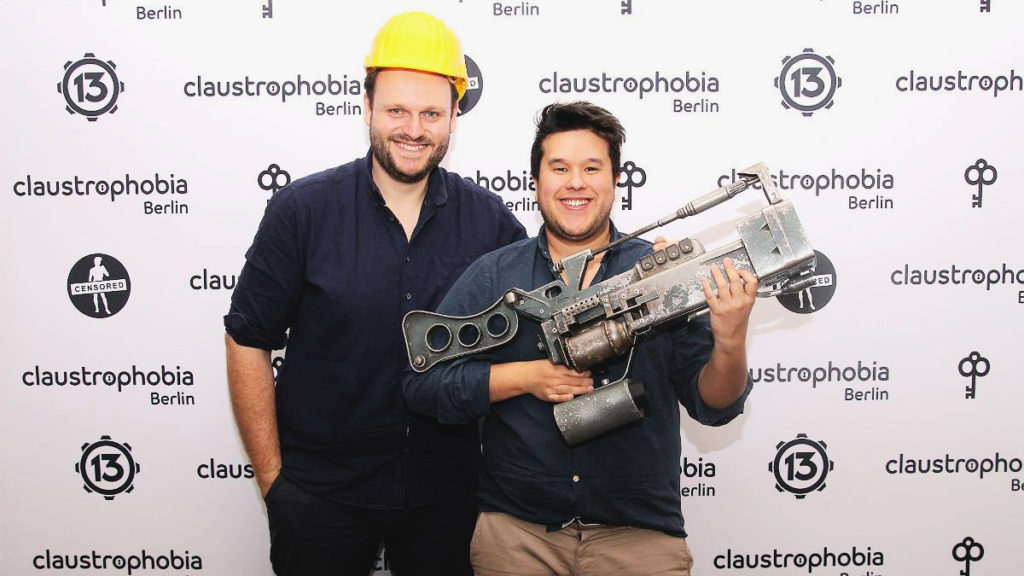 Pirate's Hut
After taking a 5 minute break, we were ready to go back in time – literally. The next room took us from the atomic fallout right back into a cosy pirate hut on a Caribbean island. But what is wrong with all the accommodations not letting us out again? The game actually starts before you enter the hut and has nice production all around. The lights and sound work well, especially in the beginning of the game.
Once you enter the Pirate's Hut, you find yourself in a rather small and dark space – contrary to Vault 13 we don't think there is actually enough space to have a nice time with more than 3 people. The story is also very linear, but involved more searching than in Vault 13. And what have we learned from our experience at The Final Escape / The Steampunk Puppeteer? Right – our search skills were not really our the best during our time in Berlin.
In general, the Pirate Hut is rather dark and small, but you get some lamps to help you with the search. Since the place is not really spacious and the room does not hold too many red herrings, not finding certain elements should really count as our mistake. There were some elements that had some mechanical problems in the room though. Without any specific spoilers, the fireplace as well as the ship task had some glitches, which we were able to overcome eventually (or the game master was just able to trigger them, who knows). The final puzzle is nice and needs you to use certain elements you have found before, adding up to a nice final moment – which is cool, but lacks the final finishing touches to actually "work" fully.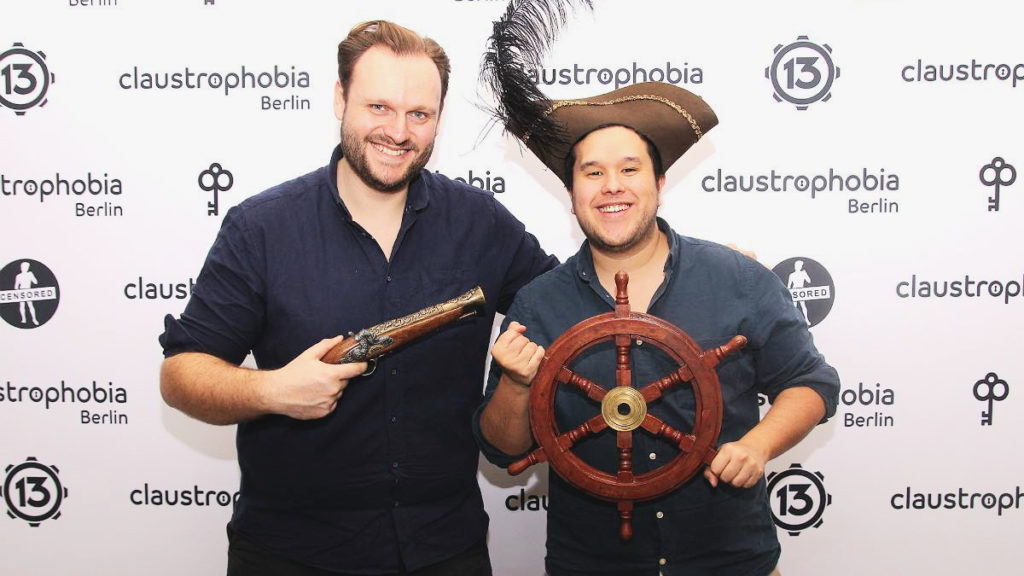 Final Roar
There is a reason Claustrophobia is one of the biggest Escape Room franchises in the world. To say that they don't know what they are doing would be a flat-out lie. The two rooms we played – Vault 13 and The Pirate's Hut looked really great and were among the best looking rooms we have done overall until now. The hosts were nice, the location was clean and almost everything worked smoothly.
Both games had interesting setups and (most of) the puzzles and tasks made sense. Interestingly, we struggled with the general gameflow at both games to a certain degree. Yes, the puzzles made sense. Yes, most of them fit nicely with the theme. On the other hand, once we were stuck .. we were really stuck and did not know what to do next. There seemed to a be little bit of disconnect between certain puzzle elements that interfered with our general flow.  The second point we have to make is also quite surprising for us: generally, we hate to have red herrings in the rooms and we prefer less Decoration to having to check 500 books for content, just because it fits the theme. But both of these rooms lacked a little bit of "love to the detail". Sure, we appreciate to not have to go through elements that are not part of any puzzle. But the rooms themselves looked a little bit empty and lacked some finishing touches that would have made them real standout escape rooms.
But do not get me wrong – this is truly critique on a very high level. As stated before, Claustrophobia certainly knows how to built engaging games. And we did enjoy both of them quite a lot. If you are a group of 4 or more, think about splitting up and doing some rooms simultaneously. The linear nature of the rooms could otherwise frustrate bigger groups – but since they do not allow more than 4 people into a room, this should not be a big problem anyway.
Score
Bears Escape - Claustrophobia in Berlin
Location -

7/10

Production -

8/10

Staff -

8/10

Fun -

8/10
Summary
Claustrophobia Berlin is neatly located at Alexander Platz inside of the ALEXA mall. The location is clean and offers bathrooms, a cozy waiting area and free water. The staff was very nice and the clues we requested were on point. There was no limit to the clues.
The decoration of both rooms was quite impressive and we enjoyed both of them. We had some struggle with the gameflow, but overall, we had a great experience.
Where can I find them?
Have you ever played this escape game or one of their other rooms? Or can you recommend any other location for us to try? Please let us know in the comment section.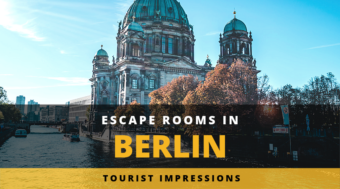 We love to travel to various cities and try to do as many escape rooms there as possible. We spent a weekend in April 2017 in Berlin, Germany, and did a couple of escape rooms. Of course there are a LOT more Escape Rooms in Berlin than we had a ...
Read More
Also – check out and follow us on YouTube and Like our Facebook Page to stay up-to-date about our posts. Or check out our other Bears' Escape Reviews in our Escape Room Guide.