We had the privilege to visit ERIC this year. ERIC stands for "Escape Room Industry Conference" and was organized for the third time in a row by the escape room enthusiast legend Sera Dodd and an amazing team of industry-relevant volunteers and sponsors.
It was the first Escape Room conference that I (Stefan) had a chance to visit (Alex could not attend as he was busy showing his grandma the beauty of London) and I have to say: it was quite an amazing experience.
The Line-Up and Talks
ERIC expanded a bit this year and offered three stages for talks, additional workshops during both days and a chance to try some popup games. Since the conference targets Escape Room owners, the talks were mainly focused on topics for that purpose. Nevertheless, there were some very interesting talks for me as well – here are some of my personal highlights – sadly I couldn't split myself and attend more talks:
Monday (Day 1)
CREATING GHOSTS: DESIGNING A CINEMATIC IMMERSIVE EXPERIENCE
by Chris Lattner (THE ROOM in Berlin/Germany)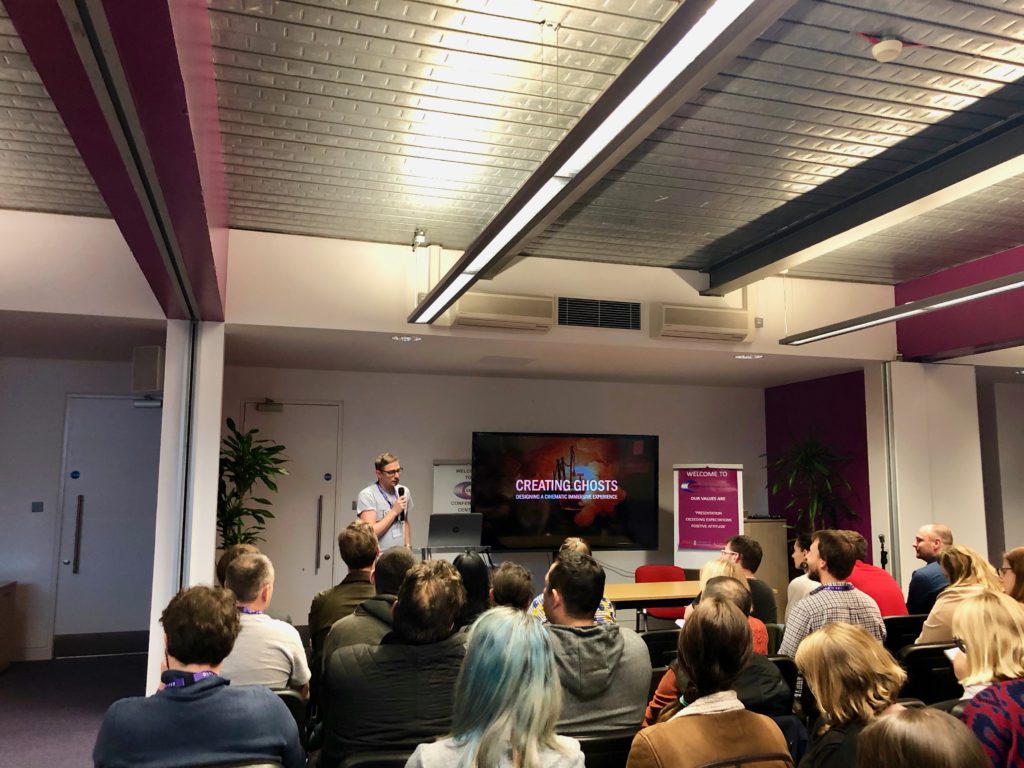 A very insightful and interesting talk about how to approach immersive escape room design with some great examples and tips based on the forth room GHOSTHUNTER BRANDON DARKMOOR. Interesting fact: changing the light and some minor prop changes make it pretty easy to "fool" to player into thinking they are in a different area. Who knew we could be fooled that easily?
THIS GUN'S FOR HIRE: SELLING YOUR DESIGN SKILLS
by David Middleton (Bewilder Box in Brighton/UK)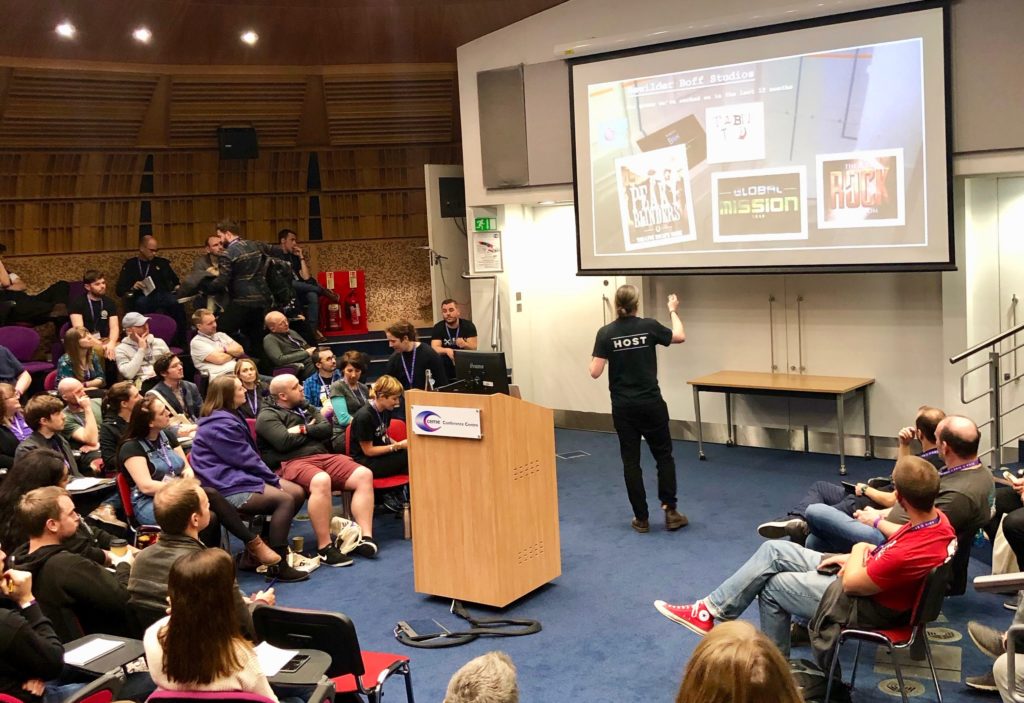 I was very surprised by David's talk about how to properly deal with the task of selling your skills (as a game designer). Sure, I am not a game designer and probably will never be one, but the lessons were pretty universal and can totally be used in other fields of work as well. The most important takeaway for me: always make a contract before you start working on anything with other people. ALWAYS.
HOW TO SCARE YOUR CUSTOMERS & GET PAID FOR IT
by Tomas Kucva (The Chamber in Prague/Czech Republic)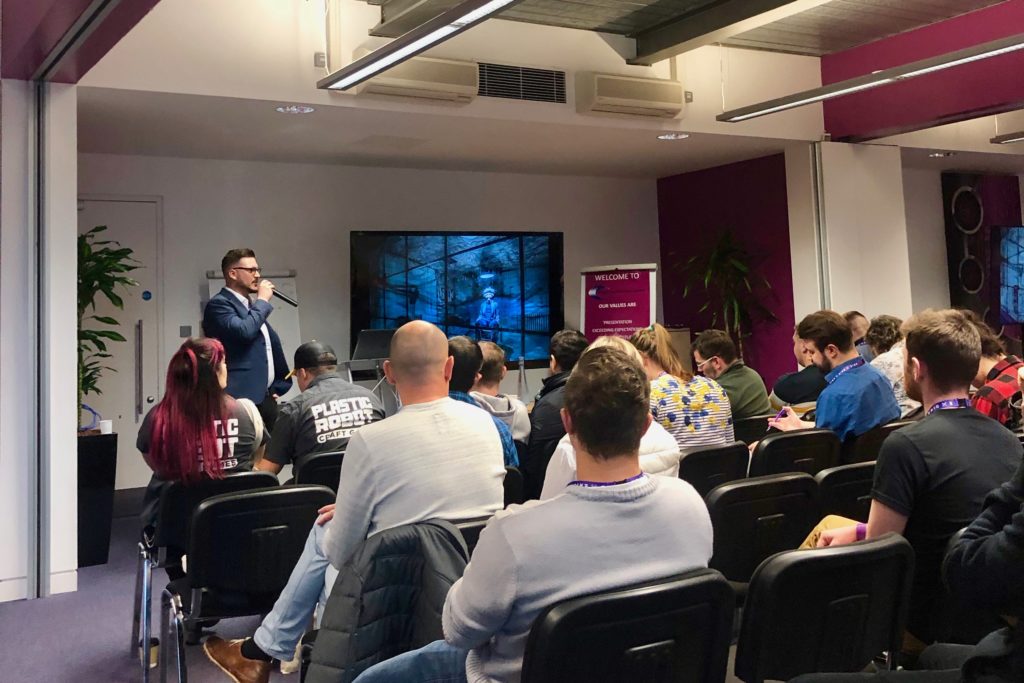 Tomas had an interesting start to his talk: he scared me right away into thinking he would faint in front of us. But after getting some water and proving his point about how easy it is to scare your audience (unintentionally?), he held an amazing talk about how he and his crew at The Chamber planned and designed their best-rated room POLTERGEIST and how he reached a completely new audience with scary rooms. My own takeaway: scaring your audience only works in small bursts, if you just scare people non-stop (like they tend to do in haunted houses), they just get numb and overwhelmed.
THE PLAYER EXPERIENCE: FROM BRAIN TEASERS TO BRAIN TRAUMA
by David Spira (www.roomescapeartist.com)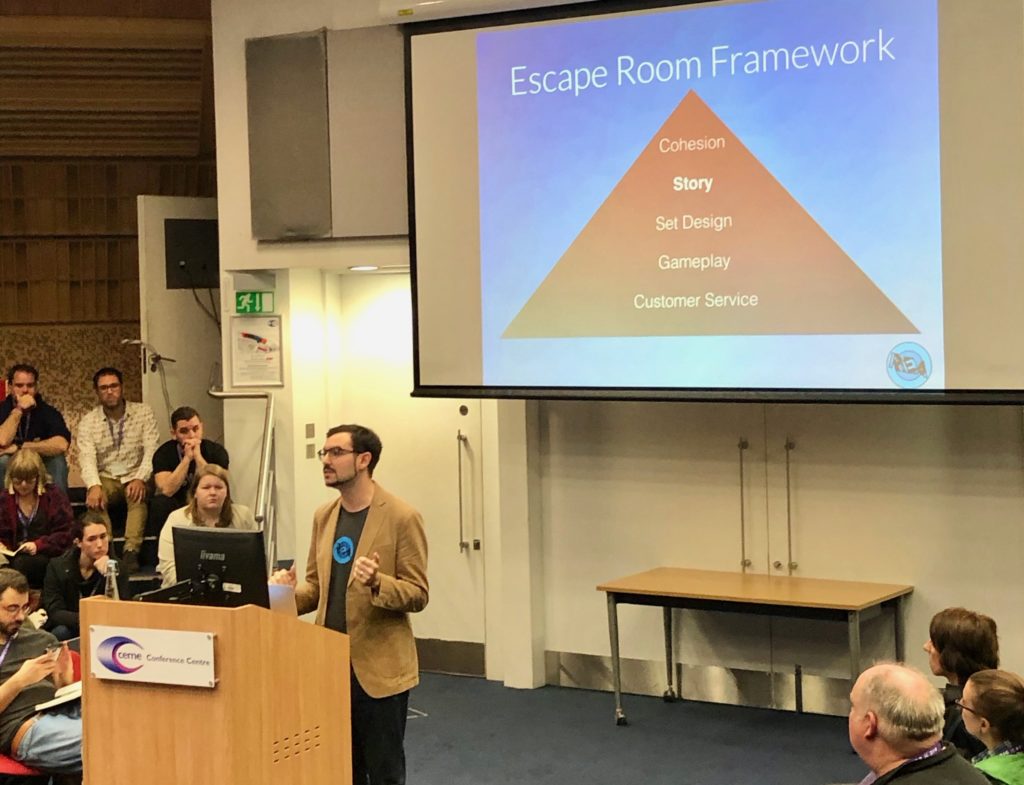 David Spira is one of the most important escape room bloggers and having the chance to listen to one of his talks was really awesome. He has done this quite often by now and knows how to present the players perspective in a very clear way – like this amazing visualisation of the Escape Room Framework that starts at the bottom and works itself up. Only if each step is fulfilled, you should care about the next one. My favourite point of the presentation: Owners, clean your toilets!
PANEL: MARKET TOPPERS
moderated by David Spira (www.roomescapeartist.com)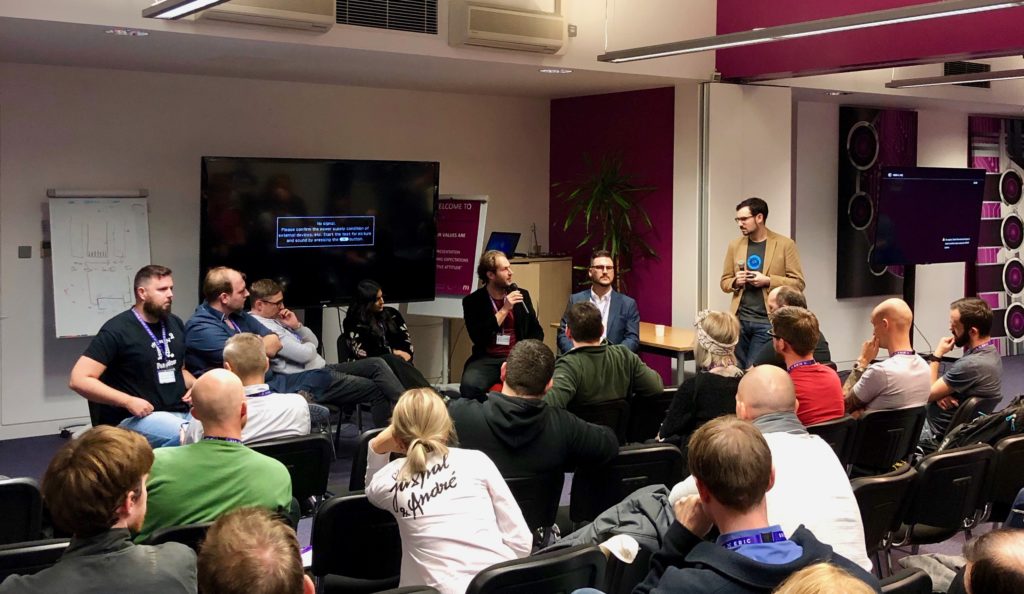 This panel consisted of creators of some of the best games in Europe:
Dimitris Occd Varelas (Paradox Project in Athens/Greece)
Lukas Rauscher (Crime Runners in Vienna/Austria)
Chris Lattner (THE ROOM in Berlin/Germany)
Sheena Patel (Time Run and Sherlock the Game is Now in London/UK)
Victor Milton van Doorn (Sherlocked in Amsterdam/Netherlands)
Tomas Kucva (The Chamber in Prague/Czech Republic)
This was a very insightful and passionate discussion about escape rooms, why they started to open one and how to aim for the goal to get one of the best rooms in the industry.
Most controversial statements of the panel:

(1) don't pay your gamemasters a high amount of money, as our experience is that the more they earn the lazier they become
(2) there are no good rooms in London

Let me know in the comment section if you have a guess who said both of these things.
The counter (2) a bit, London does have some good games like Battle for Britain from Escape Plan LTD and Sherlock the Game is Now (which we sadly have not played yet), but the ones with better reputations are indeed a bit outside of the city. Next step for us: plan a trip to Athens and find a chance to play Paradox Project – it sounds amazing!

Tuesday (Day 2)
HOW TO CREATE BETTER ER EXPERIENCES BY APPLYING GAME DESIGN THEORY
by Alastair Aitchison (Playful Technology)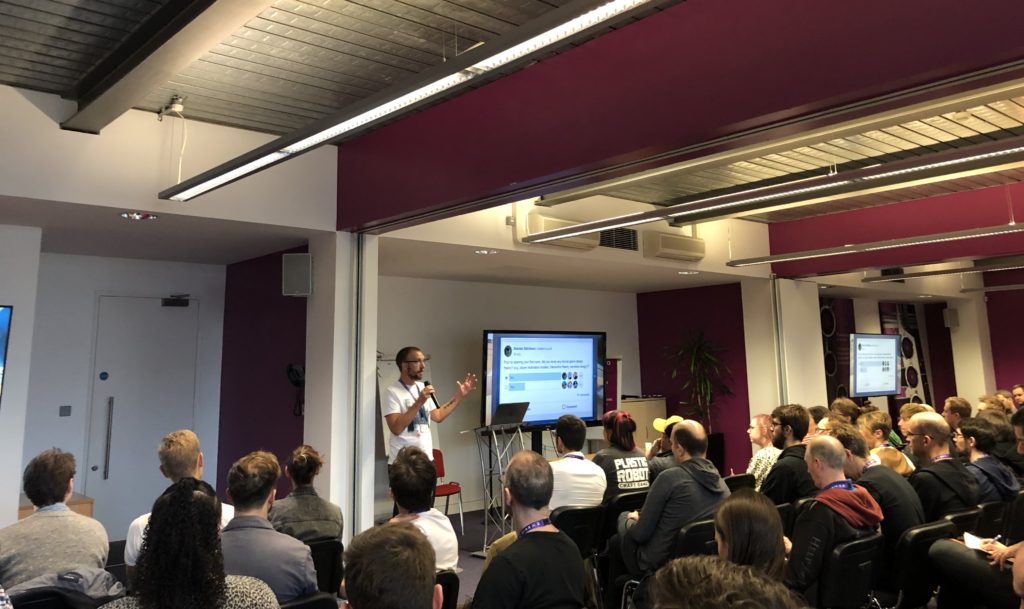 The very first talk I went to on Day 2 was held by Alastair and he talked about using various game design theory examples while thinking about planing or improving an escape room. He showcased a lot of interesting ideas that also made me think differently about how to rate certain game aspects while reviewing them. My takeaway: the distinctive difference between immersive experiences and games is that the player should be able to take action and fail. Makes you question what do YOU want from an escape room? The answer here definitely varies for most people.
WHAT WE CAN LEARN FROM THE CHINESE ER INDUSTRY
by Yan Xie (Archimedes Inspiration in London/UK)
Yan Xie, who is one of the owners of the well-acclaimed Archimedes Inspiration in London, held one of the most interesting talks at ERIC 2019 for me. She talked about the huge escape room market in China, which seems to have over 6500 escape room companies. If you are fluent in Chinese, you will be able to find streets with over 80 different companies so it is no surprise that the hardcore escape enthusiasts in China boost numbers of having played more than 2000 to 4000 rooms. Sadly, there are hardly any games that are playable for English speakers but you can check out "Mr X" in Shanghai (and tell us about it!).
Interesting side notes: It is pretty interesting to hear how fast the market in China grew, also spinning off various TV Show formats which were primarily focused on escape rooms. While the market itself is still thriving, certain companies have shifted from traditional escape games to script-based / immersive experiences or changed to Werwolve-inspired games.
LEARNING FROM MISTAKES: BASED ON THE PROJECT GOING UNDERGROUND
by Lukas Rauscher (Crime Runners in Vienna/Austria)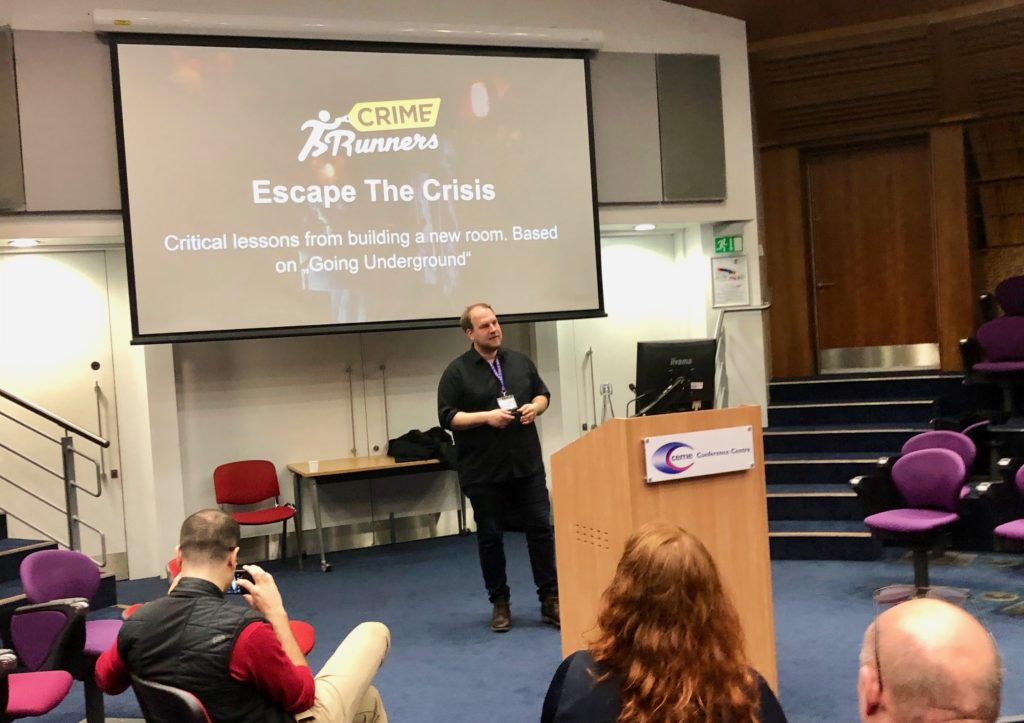 Lukas Rauscher from Crime Runners in Vienna talked very openly and in shocking detail about the struggles the company went through while building the fourth game Going Underground (check out our review here). Knowing Lukas and all the owners personally, it was hard to hear what they went through and that it nearly tore them apart.
Thankfully the story had a happy ending with all of them figuratively getting their shit together and opening (in our humble opinion) the best escape room to date in Austria. Positive thoughts for the future: Fingers crossed room number five will not be that hard on them (tbh: we know nothing about a next room, but I do think it is about time to get the rumour started)
THE TEAM PHOTOGRAPH: WHY IT'S IMPORTANT & HOW TO IMPROVE IT
by Brendan Mills (Escape Plan LTD in London/UK)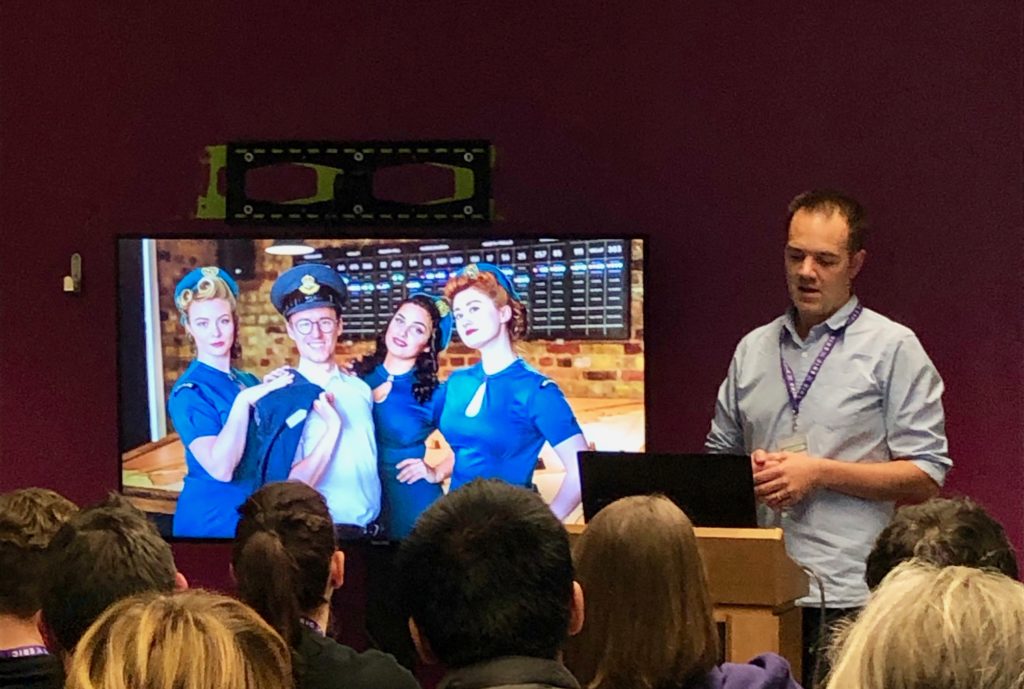 I wasn't sure if this talk would be interesting for me, but I really like Brendan, so I thought I would listen to his talk and wow was I in for a surprise. Brendan is not only the owner of one of the best Escape Room companies in London (yes, they do exist) Escape Plan LTD, he was also a wedding-photographer in his previous profession. That also explains why the group photos of Escape Plan look so freaking amazing.
The escape room team photo is an interesting topic on its own, as I never understood why so many escape companies are treating it as an afterthought. Give your players a great pic and they will make free advertising for you. Of course, most escape room group photos suck and players don't want to hold some stupid signs in front of a huge logo wall. Brendan talked about precisely that but also gave helpful advice about how to generally make group photos better. Awesome talk. My personal take-away: once the group is in position, tell them to get closer together. Once they are done, tell it to them again. After that, ask them again. Now they are ready and actually look like they like each other on the photo.
SPINNING THE NUMBERS: A WHISTLE-TOP TOUR OF ER STATISTICS
by Ken Ferguson (www.thelogicescapesme.com)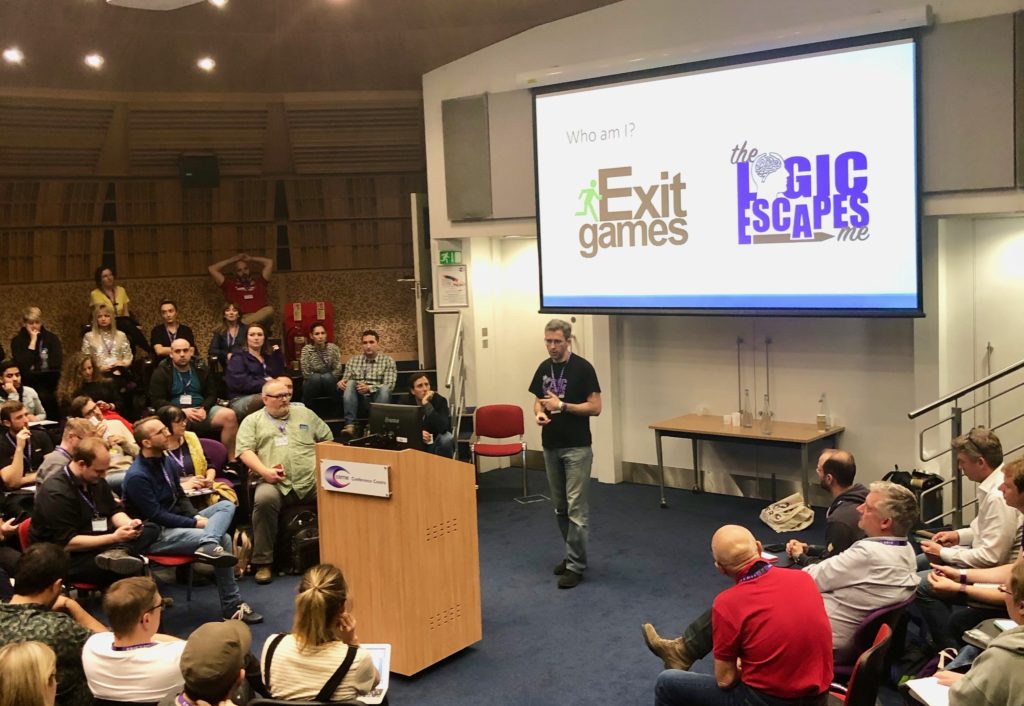 Seeing how Ken Ferguson filled out every single seat at the pod stage with some people even sitting on the stairs was quite cool and impressive, but hardly surprising as he is not just one of the biggest names in the UK escape room industry and consulted on last years Red Bull Escape Room championship, but he is also a very dear friend of us. Nothing of this is important for the talk, but it was still worth mentioning. The talk itself was full of numbers of the UK market that should be a must-hear if you are interested in the UK market.
My own takeaway from the talk: Ken really enjoys collecting and going through an insane amount of numbers. Oh and yes, London city centre seems to have enough escape rooms, its time to go to the outer regions (and thereby maybe making them a bit more affordable please)
PANEL: THE BLOGGER'S PERSPECTIVE
moderated by David Spira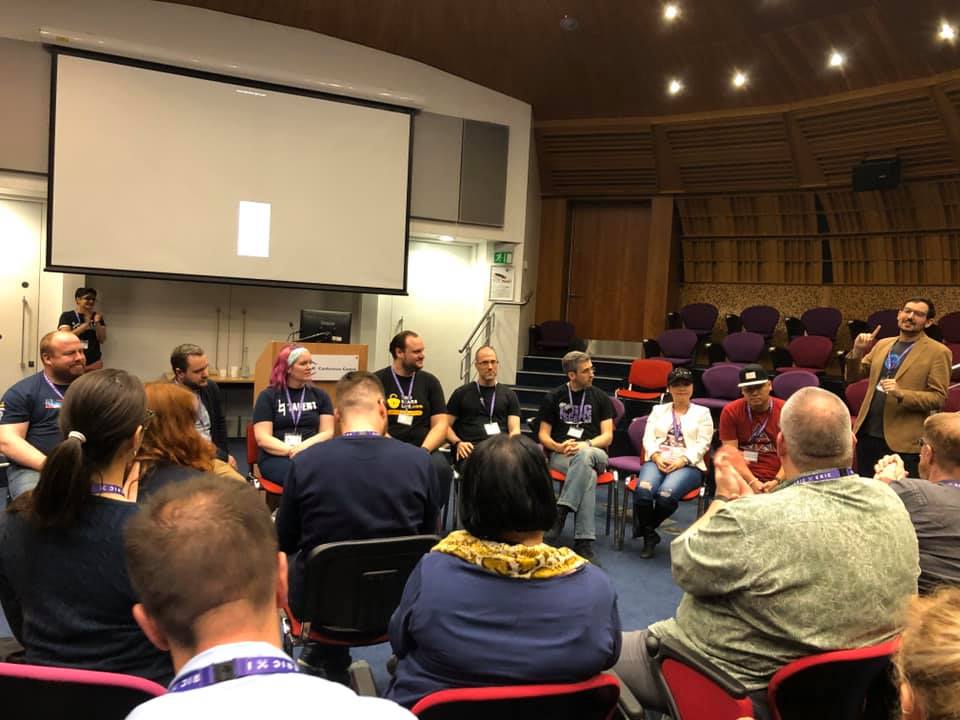 And last but not least – the blogger panel. I was on it. With a bunch of way more important bloggers and really cool people. It was amazing.
Here is a list of the panellists in seating order:
I will write a separate post with my detailed thoughts about our panel, but overall it was a privilege to be invited and share the stage with so many great and likeminded individuals. And thanks to all our listeners – we had the last slot of the conference and we still didn't face an empty audience. Thank you.
Afterparty and Conclusion
All in all, ERIC 2019 was THE escape room conference to be this year. Most big voices of the industry were there and if you didn't take the chance to listen to their talks or just to randomly talk to them on the conference floor than that is on you.
The ERIC team has organized an outstanding event that went both days without any visible hiccups. Everyone I talked to (and it was a lot, my brain was toasted at the end of Day 2) loved it and can't wait for ERIC 2020.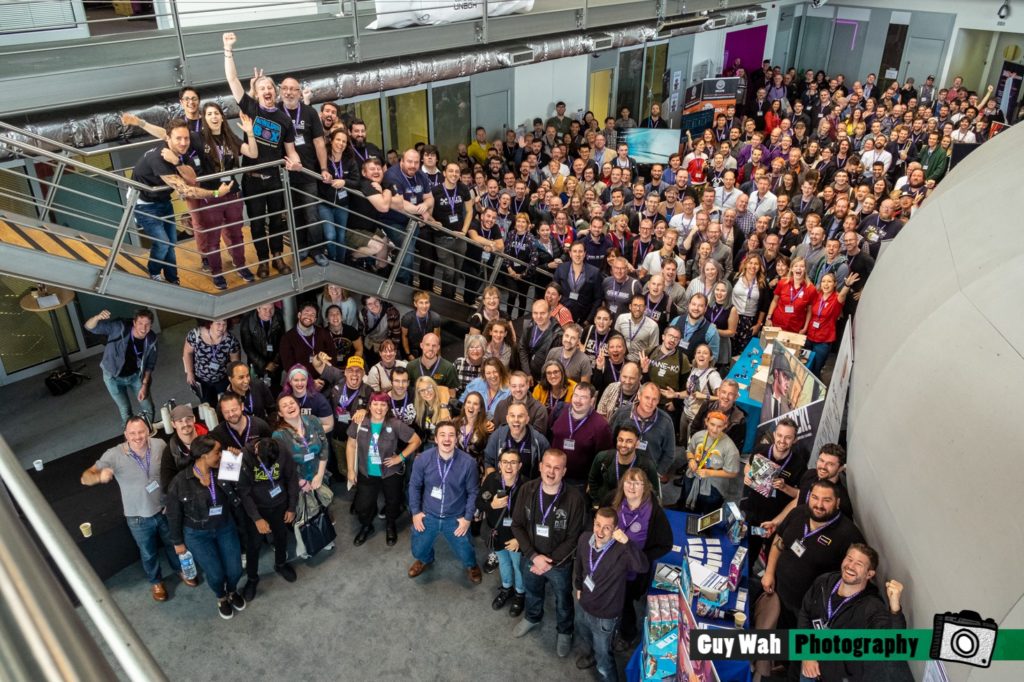 Cheers – see you all next year!
If you are interested in ERIC, follow them on Facebook to get more information about any developments for next year: Facebook ERIC