Brain Break in Madrid, Spain, was the first Escape Room we visited on our Escape Room tour in the capitol of Spain. In general, it is not easy to find escape rooms in Madrid where you do not need any english – never the less – we found some. Is Brain Break one of them?
Lets find out and get this Escape Room Review started:
Brain Break
Madrid, Spain
Location: Calle Encomienda, 12, 28012 Madrid
Games (reviewed): Abracadabra
Games (not reviewed): Plan de Huida, Regreso a la Tierra
Group: 3
Website: www.brainbreak.es
Our Experience
Brain Break was the first Escape Room we visited during our Madrid trip and it is a great example for our overall experience. The website did not provide any english information, but once we contacted them (on Facebook), we got some answers. We were told the room is playable in english, so we booked it for the three of us. Luckily, two of our group were fluent in Spanish, because our host did not speak any english when we arrived.
Brain Break is located fairy close to the city centre, so it was no problem for us to reach it with public transport. The area itself was not the nicest of the city – but thats fairly standard for most escape rooms anyway. They offered some lockers for our stuff, but there was no waiting area, so don't be early, or you will have to wait outside (also very common in Madrid).
Full disclosure – we asked beforehand to play in english, but once our host realised that Alex was speaking Spanish, there was no way back. The room itself worked without any special language knowledge and if needed are indeed translated. The game intro was given in Spanish, but I was handed a sheet with the basic rules of the room in English. During the game, the hints were only given in Spanish.
Abracadabra
The life of the great magician Raymond is coming to an end. It's time to give the baton to his apprentices: YOU!
To see if you are ready, he will lock you in his house with all kinds of tests and magic tricks, making sure that you are able to continue his legacy….
After our short intro, the game master led us to the entry of the room and once the door closed, the game was on. You will find yourself in Raymonds offices and it is up to you, to find his legacy and escape in time.
The room decoration was nice and fitting to the theme of the game. After some time to get a feeling for the flow of the room, we actually had a good progression. Brain Break found very creative ideas to merge magic effects and little magic tricks with escape room puzzles and elements.
The room was well decorated, but not overloaded with elements so you wouldn't know what to do. Nevertheless, we overthought some of the puzzles of the game and needed some hints. Like said before – sadly, those were only provided in Spanish. But it may very well be possible that they would provide help in English if none of the players speak proper Spanish.
In the end, we escaped with 9 minutes left on the clock.
Final Roar
Brain Break was the first location we visited in Madrid, so we did not know how the rest of the city would turn out. To be quite honest, I was a bit disappointed that I was promised an english game, but the game master was not speaking one word in english with me. We did play some other games were we were told upfront that the games would be possible to play, but Spanish speakers were indeed needed. I still think that if you are not speaking any Spanish, you could still play at Brain Break – but would I vouch for that? Sadly – no. On the other hand, if you don't need any hints, the game itself is absolutely playable in English.
The room is on par with rooms in Madrid – average compared to the European standard. Did we have a great time? Absolutely. It was the first room we played with our teenage cousin and she fairly enjoyed it. Is it a must do game? No.
Overall, we could see the effort that went into designing the room. The decoration and the puzzles were theme appropriate and our host was very friendly (if you were able to understand him, which most of my group was)
Score
Bears Escape - Brain Break Madrid
Location -

6/10

Production -

6/10

Staff -

6/10

Fun -

7/10
Summary
Brain Break in Madrid offers three rooms – we played their magic room Abracadabra. Although the game itself is playable in english, our host and gamemaster only spoke Spanish. We would advise to ask beforehand, if there is an english speaker available to attend your game session.
Overall, Brain Break is easy to reach with the subway. Don't show up too early because there is no waiting area and you will have to wait outside.
The game was well done and we enjoyed our time.
Where can I find them?
Have you ever played this escape game or one of their other rooms? Or can you recommend any other location for us to try? Please let us know in the comment section.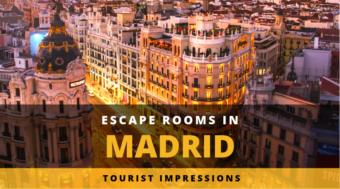 We spent New Years Eve 2017 to 2018 in Madrid / Spain. It was not a full-on escape room enthusiast trip, but we were able to combine a family adventure with as many escape rooms as possible. Naturally, we were not able to visit ALL Escape Rooms in Madrid, as there already are a lot of companies present. Never the ...
Read More
Also – check out and follow us on YouTube and Like our Facebook Page to stay up-to-date about our posts. Or check out our other Bears' Escape Reviews in our Escape Room Guide.