Action House was one of the weirdest Escape Rooms we have ever done – and that says a lot. So let's find out way, shall we?
Escape Room Review

– Short Roar –
Action House
Madrid, Spain
Location: Calle Luis Vives 6, Madrid
Games (reviewed): Un Caso Perdido
Games (not reviewed): Ratas de Biblioteca
Group: 3
Website: www.actionhouse.es
Un Caso Perdido
A somewhat peculiar journalist …
A young man who asks for help ..
Some phenomena that have no explanation …

(Google Translate was our friend)
Our Experience
The first thing that needs to be stated about Action House – at least when we visited – was the fact that this game is full on Spanish. It is a really great and unique experience – but I didn't understand too much of what was going on.
Nevertheless, I am very happy we chose to visit Action House on our Madrid Trip. Un Case Perdido is not a classic Escape Room but more of an immersive experience with actors merged with an Escape Room. Sounds interesting?
Upon arrival, you will be greeted by the Butler and welcomed in a lavish apartment. There is no classic reception area – the game starts the moment the door opens and you enter Action House. We had two native Spanish speakers in our team, so we didn't really have a big problem with the Spanish parts.
The game was super fun and very original and although we didn't escape the last room in time, we had a really really good time. If you have a chance to visit the game with a Spanish-Speaker, go for it.
Score
Bears Escape - Action House in Madrid
Location -

8/10

Production -

8/10

Staff -

8/10

Fun -

8/10
Summary
Action House is a very unique and fun merge between immersive theatre and escape rooms. We loved it – although you need to have at least one Spanish speaker in your team since the game is not designed for english-speaking players.
Where can I find them?
Have you ever played this escape game or one of their other rooms? Or can you recommend any other location for us to try? Please let us know in the comment section.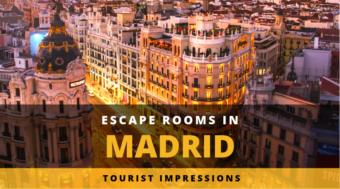 We spent New Years Eve 2017 to 2018 in Madrid / Spain. It was not a full-on escape room enthusiast trip, but we were able to combine a family adventure with as many escape rooms as possible. Naturally, we were not able to visit ALL Escape Rooms in Madrid, as there already are a lot of companies present. Never the ...

Also – check out and follow us on YouTube and Like our Facebook Page to stay up-to-date about our posts. Or check out our other Bears' Escape Reviews in our Escape Room Guide.