MyEscape.Club's name in Amsterdam sounds like you have to have some special membership to enter – it is a normal Escape Room company though – so don't worry. We played their Terminator-inspired room – but was it good?
Escape Room Review

– Short Roar –
MyEscape.Club
Amsterdam, Netherlands
Location: Weteringschans 187A HS, 1017 XE Amsterdam
Games (reviewed): Judgment Day
Games (not reviewed): Back to USSR, The Curse
Group: 2
Website: https://myescape.club/
Judgment Day
Year 2029. Humanity is losing the battle against the machines. Resistance fighters discovered a secret military bunker. It has been out of service since Judgment Day over 10 years ago. Reconnaissance data confirms the bunker was used for secret military developments and may contain cutting edge technology which can help to turn the tide of this war. Your mission is to penetrate the bunker and find out what is inside. This could be the most important mission in the history of mankind…
Our Experience
MyEscape.Club is located in the heart of Amsterdam and is super easy to reach – even on foot if you are in the area or with public transport. Despite the name, you don't need any special Membership to play in the MyEscape.Club – so don't worry about the name. At the moment of writing this review, they offer three rooms – we have only played Judgment Day.
We have heard great things about this game, so wanted to make sure we could squeeze it into our Amsterdam schedule – which worked out for us. After arriving at the location, we warmed ourselves a bit in the lobby, before storing our items in lockers and heading for the game. The company warns on the website to wear comfortable clothes and no high-heels, which makes sense since your mission is to infiltrate a military complex and save the world. We have played games with similar setups before, but most of them did not require that much physical activities. Don't worry – it's not a gym class, but do expect some crawling and climbing in this room.
The immersion level in Judgment Day works quite well and although a large part of the game is quite dark, we never got annoyed by it. The game builds the tension well and offers a nice final moment, which is always appreciated.
We escaped after 55 Minutes of the 75-minutes game. Afterwards, we had a nice talk with the owner as well and can not wait to check back for their other rooms on our next trip to Amsterdam.
Sidenote: Judgment Day is best played in comfortable clothes and no high heels. If you are pregnant or have any symptoms like panic attacks, claustrophobia, epilepsy, etc., please inform them before the game. They offer to adapt your session to exclude special effects which can result in any discomfort. Nice.
Score
Bears Escape - Locked.Amsterdam in Amsterdam
Location -

8/10

Production -

8/10

Staff -

8/10

Fun -

8/10
Summary
MyEscape.Club in Amsterdam is perfectly located in the heart of the city and offers three games (at the moment). We have played the Terminator-insprired game "Judgment Day", which offers a very active end-of-world experience. The game offers good production values and delivers a great final moment.
Where can I find them?
Have you ever played this escape game or one of their other rooms? Or can you recommend any other location for us to try? Please let us know in the comment section.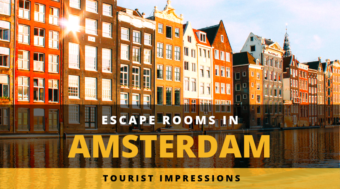 Tourist Impressions from Escape Room Enthusiasts If you are looking for the best Escape Rooms in Amsterdam, you will be happy to find out that the city has a vast and high quality list of Escape Rooms that are worth checking out. Like always, we have not played all Escape Rooms Amsterdam has to offer, but we tried to make ...

Also – check out and follow us on YouTube and Like our Facebook Page to stay up-to-date about our posts. Or check out our other Bears' Escape Reviews in our Escape Room Guide.