Exit Madrid is part of the EXIT Franchise and one of the most tourist-friendly Escape Room companies in Madrid. But did we have a good time?
Escape Room Review

– Short Roar –
Exit Madrid
Madrid, Spain
Location: Calle de Caracas, 15, 28010 Madrid, Spain
Games (reviewed): Cold War – Double Agent 1976
Games (not reviewed): Lab 2010, The Art Merchant 1932, Death Penalty 1962
Group: 3
Website: www.exit-game.es
Cold War – Double Agent 1976
Madrid in the 70's. You are part of a CIA command. You will enter the room of a double agent who has disappeared. Will your team be calm and sufficiently cold blooded to find the way to stop a nuclear alarm that would unleash the Third World War?

It is considered the flagship escape room at EXIT® Madrid. A difficult and complex room, a strong narrative with an intricate rhythm and an ending under pressure.
Our Experience
Next to Fox in a Box Madrid, Exit Madrid is – without a doubt – the most tourist-friendly Escape Room venue. The website, the staff on location as well as the game was or could speak English. They also have a big waiting area and are very professional and welcoming.
We did go for their hardest game and it was the last one we did during our visit – so we were kind-of tired. Cold War – Double Agent 1976 is advertised as a difficult room with a very low escape rate. Which didn't scare us though – we have done enough rooms that it shouldn't have been an issue.
Well – turned out it was a big issue for us. Although we did hear good feedback from fellow enthusiasts about this room, we really struggled during the whole game. We never really got into the flow and needed way too many hints to feel like we achieved anything. Worst thing was that we encounted a Rubik's cube during the game which was the kiss of death for us. Sure, you will find something to help you solve this puzzle later on, but I spent a big part of our playtime trying to solve that cube-puzzle without ever getting a response from the gamemaster if I should continue doing this right now (and believe me, I tried to ask many times if I have to do this or I can let it rest).
The game also has a sudden-death ending, which we couldn't solve because we triggered it way too early and we didn't event have all the elements to solve it.
All in all, we did not enjoy the game but we do understand that it was probably a mix between our fatigue, a really "hard" game and a game master who just didn't want to or was not allowed to help us succeed in the room. Which is fair – it is their hardest game after all. We just didn't enjoy it. 
To be fair, Ken from thelogicescapesme.com (read here) gave the room 5 out of 5 and loved it – so don't be discouraged to visit them when you are in Madrid.
Score
Bears Escape - Exit Madrid in Madrid
Location -

8/10

Production -

6/10

Staff -

5/10

Fun -

3/10
Summary
Exit Madrid is one of the best locations to go for Escape Room tourists who don't speak Spanish and want to do multiple rooms at once. We did go for their hardest room and failed horribly. We didn't really have a good time, but we should have probably gone for an easier room. Nevertheless, Exit Madrid should be a contender if you plan an Escape Room visit to Madrid.
Where can I find them?
Have you ever played this escape game or one of their other rooms? Or can you recommend any other location for us to try? Please let us know in the comment section.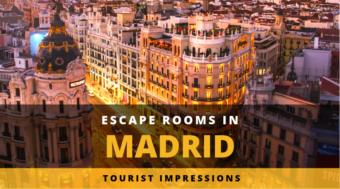 We spent New Years Eve 2017 to 2018 in Madrid / Spain. It was not a full-on escape room enthusiast trip, but we were able to combine a family adventure with as many escape rooms as possible. Naturally, we were not able to visit ALL Escape Rooms in Madrid, as there already are a lot of companies present. Never the ...

Also – check out and follow us on YouTube and Like our Facebook Page to stay up-to-date about our posts. Or check out our other Bears' Escape Reviews in our Escape Room Guide.