At the end of February, we traveled to London, England. It was part of my birthday gift from Alex, which included a show by Bianca Del Rio and a trip with our closest friends to the Capitol of England. Naturally, we also played a bunch of Escape Rooms. We had one day to check out rooms all over London. The first one was "Revenge of the Sheep" by clueQuest.
clueQuest
London, England
Location: 169-171 Caledonian Road London, N1 0SL
Games: Revenge of the Sheep, PLAN52 (not played), Operation BlackSheep (not played)
Group: 5 People
Website: www.cluequest.co.uk
Our Experience
Before we start, just a tip for any traveling Escape Room enthusiast: book your rooms some time ahead. Although there are a ton of rooms in London, the good ones are quite busy and their schedules fill up quickly.
Anyway – we woke up early on a Saturday to make it to a 9 am appointment at clueQuest. We were able to walk from our homebase (near Kings Cross Station) to clueQuest, which took us to a really nice route along the Regent's Canal. Definitely a nice side of London we have not experienced before. After we arrived at the location, we were surprised by the sheer size of the company. We knew from their website they had three different rooms  – but they have each room three times. Which makes it quite a busy lobby. After a short waiting period, we were welcomed by our great (female) game-master (so sorry for not remembering your name – but you were super nice and gave us a really colourful and enjoyable start into the day).
Revenge of the Sheep
Professor BlackSheep is back again to destroy mankind as we know it by turning us all into sheep! And this time he is not alone – he's got an evil side-kick and together they have built a dangerous device: the SheepMutator.

Mr Q believes that the new technology used by the Professor poses a serious threat: by mutating the human genome, the SheepMutator can turn anyone who is in the range on its evil rays into a placid sheep! To make matters worse, the Professor has managed to set up several such devices in key locations around the planet – one of them having been set up right here, in London.

Agents, you will have 60 Minutes to locate and find a way to deactivate these devices before they go online and it's too late for mankind!
The story sounds wacky – but in the end it is a take on the "disarm the bomb" escape room classic. Your group will start in a rather small area, but after solving the first couple of puzzles, you will be able to move further into the game. Although we played in a big group of 5 people, we never had a problem with the rather small space (which gets bigger later anyway)
Your mission is to find and disarm a hidden explosive device. The puzzles were very unique and cool. Even if some of them don't always fully fit the story of the room, they integrate themselves fully into the room design. Why? Because the story is weird and crazy and the puzzles fit this theme perfectly. Some puzzles are bigger leaps of logic than others, but we did not need to ask for any direct clue. To our detriment,  we brute forced a padlock (more or less unintentional) too early, which screwed up our flow a little bit, but the game brought us back on path in a very well designed way and concluded in a really well done and very cool final puzzle.
The game elements span a big variety, from the classic 4-digit-padlock to interacting with augmented reality, which has been done in a really cool way. In the end, we made it (after some helpful hints from our gamemaster) with 7 minutes and 32 seconds left on the clock.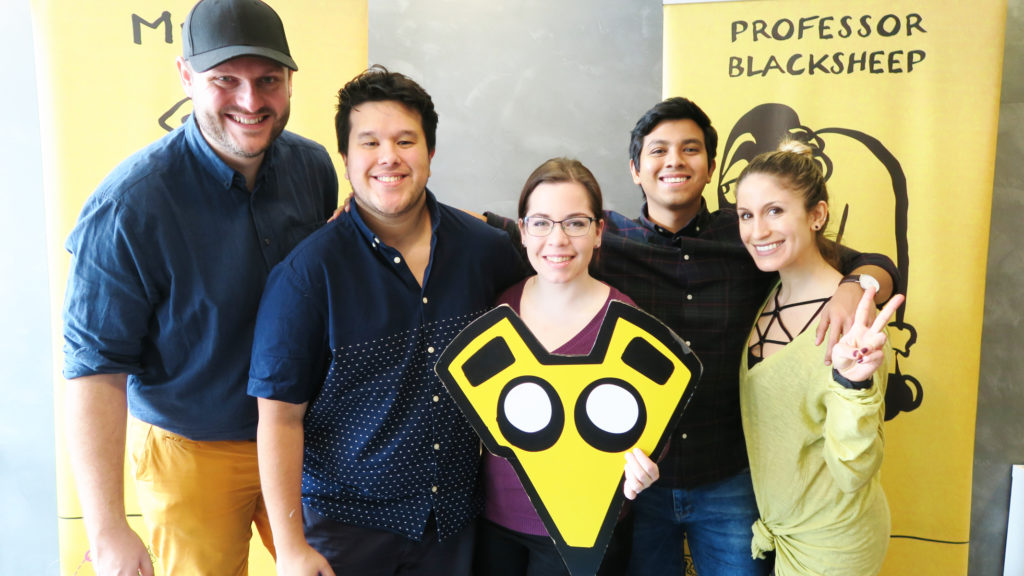 Final Roar
We had a really good time in "Revenge of the sheep". The only big regret was that we did not have time to play all of their rooms. When we started the game, there was some concern about the room size compared to our five members playing. But that worry was without any merit since there was enough to do for everyone.
The room was really smartly designed and did have its own look and feel. I like that they have their own mascots Mr. Q and Blacksheep. They can not only be found in (almost) all their games, but also all over their lobby decorations – which is really smart.
When we arrived, we saw a lot of people working in the location. Sometimes, this means the quality of the game-master could be of concern. But not here: our game-master was super nice, engaging and her clues were totally on point. There is actually not a lot we can criticize in this room. Sure, new players should probably start with one of their other games, but they mark this one as "expert level" room. There could have been more story and immersion – but other than that, we had an amazing time and it was a hell of a great start into our escape room day in London.
Score
Bears Escape - clueQuest London
Location -

8/10

Production -

8/10

Staff -

9/10

Fun -

9/10
Summary
The location is close to Kings Cross Station – about 10 minutes of walking. The waiting area is big and has different sections for all the groups. We were surprised by the sheer size of the place.
The room "Revenge of the Sheep" was full of great puzzles and a good mix of old school puzzle elements and really new and cool tech. The story and immersion level could have been better, but other than that, the game was truly great. First-timers should start with one of their other rooms, though.
Our game-master was also super nice, just don't be surprised if you are left alone for some time after arriving at the location, since they handle a lot of people. The games are private bookings.
Where can I find them?
Have you ever played this escape game? Or can you recommend any other location for us to try? Please let us know in the comment section.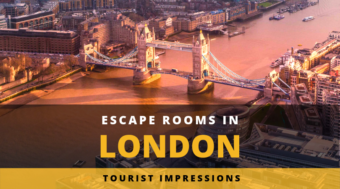 We love to travel to various cities and try to do as many escape rooms there as possible. We spent a whole day in March of 2017 in London, United Kingdom, and did a couple of escape rooms. Considering our tight schedule, we did not even scratch the surface of all the different room options you can find in London ...

Also – check out and follow us on YouTube and Like our Facebook Page to stay up-to-date about our posts. Or check out our other Bears' Escape Reviews in our Escape Room Guide.