Escape Berlin advertises itself with the tagline "Europe's biggest Live Escape Game Theater". Naturally, we were curious and had to see if that claim holds in own. We brought some friends and went for a very unique experience…
Lets get the Escape Room Review of Escape Berlin started:
ESCAPE BERLIN
Berlin, Germany
Location: Storkower Str. 140, 10407 Berlin, Germany
Games (reviewed): Liquor Store
Games (not reviewed): Sherlock Holmes, Big Päng, Kidnapped
Group: 6
Website: www.escape-berlin.de
Our Experience
When visiting Escape Berlin, we were in town just for a short time, so we (sadly) had time for one game only. Our friends, who joined us for this game, have already done all their classic Escape Room games. So we went for their "Party Room" with the telling name "Liquor Store". Perfect for a Saturday morning, right? So out of the four games that Escape Berlin offers at the moment, we went with a less serious and less puzzle driven game – but we were aware of that before hand. More about that later.
Finding the location was a bit of a challenge in itself. You can actually find Escape Berlin, which is located a bit outside of the city centre, easily with public transport. But because we were running late and we were a bigger group anyway, we took a taxi, which struggled to find the address quite a bit. Once we finally arrived at the location (which is not hidden at all, our driver was just weird), it took a bit to find the correct entrance. Escape Berlin is located in a bigger office building, so do not expect a big sign outside, but rather look for the right address and than had downstairs for the elevator and hit the 5th floor.
We were welcomed and led to a fairly large lounge / waiting area, where we waited for the rest of our group to arrive. Once everybody "landed", stored their stuff in lockers and hit the restroom for the final time, we were ready to break into the infamous Liquor Store.
Liquor Store
On the search for the legendary "Berlin Drop" cocktail you broke into the probably most famous liquor store of the whole city. It was obvious from the beginning that this will not be easy but even though it runs differently as expected for you. Only with a good team spirit and an exercised liver you will be able to make it through this adventure.
After receiving our game briefing by our game master, we entered the Liquor Store with a fairly big group of 6 people. They do tell you before hand that this game is a party game and it is designed for stag-, birthday or other parties and alcohol will be involved in the game, so we were curious what that meant. To answer that question right away: it does mean you will be encouraged to drink a bit of alcohol in the room – although the amount is up to you. The room also includes other (adult) party activities, so you should be up for that if you book this room.
Well – we entered the room with a clear warning to stay in a certain area and to be aware of the alarm system, but it took us quite some time to figure out what to do, although it should have been fairly obvious to us. Once we passed the first couple of tasks though, you will have excess to a game element that guides you through the stages of the game and that improved our game flow a lot. 
In general, the look of the room feels like a mix between a distillery and an oil shop, less like a bar, which was the look we expected – but hey, that's ok. There are some nice surprises in the game and if you came with the right (party) mood, the room will definitely lift your spirits. We escaped with a bottle of Berlin Drop as a surprise prize, which was a nice ending.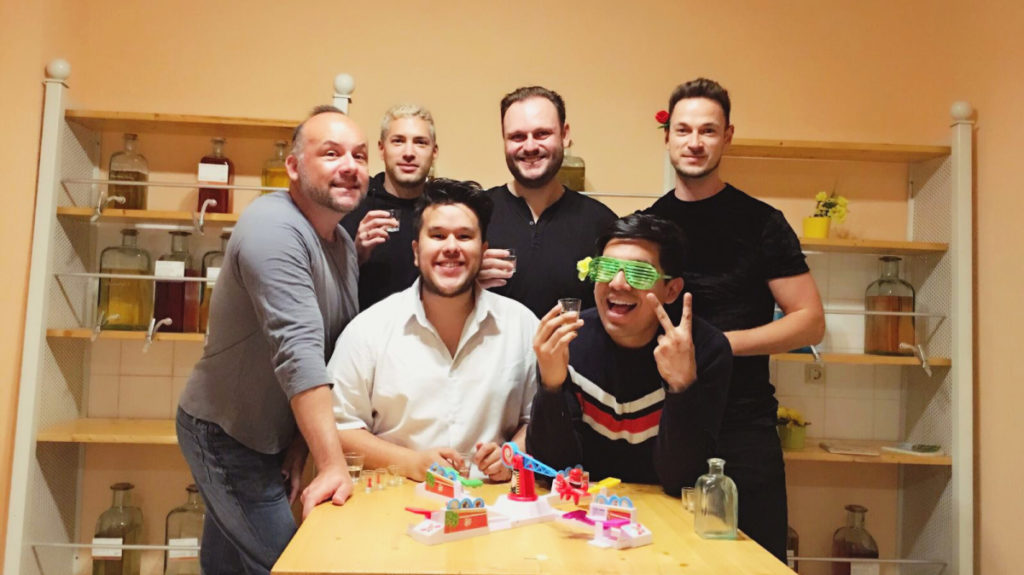 Final Roar
Like said before, we have only played the Liquor Store room, so we can not rate any of the other rooms. We have heard from the owner that they will open a new room later in 2018, so we may be back to check out more rooms than. Rating the Liquor Store alone is a bit hard though.
It was advertised as a party room and we were asked when we did the reservation if we really wanted to go for that and wouldn't prefer a "more classic" room, but we went for a party room. Like said before, we did struggle in the beginning, because we were a bit confused about which items were actually included in the first puzzle. Once you get the security system powered up, you will have some guidance that works really well and the interaction with the system was fun.
We just struggled with some of the tasks that you have to do.  Not all of it made sense to us and, to be totally honest, we were not really in the biggest party mood at that time of the day, so we did struggle with the basic premise of the room. The best way to fully enjoy this experience would be to book an evening slot, take some shots before and be in dance and party mood.
Overall, we were a bit underwhelmed by the room design, but the game and puzzle design did pick up after the first section is done. It was the first "party room" we have done, so the experience was indeed unique. Our game master did a good job and was very nice and the overall impression of the location was very clean and professional. By the way, we have been told that their scary game "Kidnapped" is quite freaky, so if you like to be scared (which we don't), check it out and let us know how it was.
Score
Bears Escape - Escape Berlin in Berlin
Location -

7/10

Production -

6/10

Staff -

8/10

Fun -

6/10
Summary
Escape Berlin offers a big location with (currently) four active games. We did one of them – Liquor Store, which is their party room. The game is specially designed for (grownup) stag-, hen- or birthday-parties and will include alcohol. We did enjoy some aspects of the game – especially the interaction with the security system, but did feel that not all the potential was used.
The location was clean and professional and the staff was very nice. We will be back to check out their other rooms later in the year.
Where can I find them?
Have you ever played this escape game or one of their other rooms? Or can you recommend any other location for us to try? Please let us know in the comment section.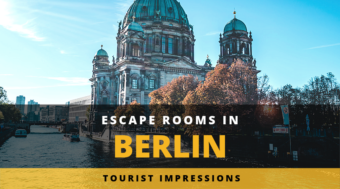 We love to travel to various cities and try to do as many escape rooms there as possible. We spent a weekend in April 2017 in Berlin, Germany, and did a couple of escape rooms. Of course there are a LOT more Escape Rooms in Berlin than we had a ...

Also – check out and follow us on YouTube and Like our Facebook Page to stay up-to-date about our posts. Or check out our other Bears' Escape Reviews in our Escape Room Guide.