Escape Me in Linz, Austria, offers a dark game with "House in the Woods" and the science-based game "The Laboratory". Did we escape alive and did we enjoy them?
Escape Room Review

– Short Roar –
Escape Me
Linz, Austria
Location: Römerstraße 4, 4020 Linz, Austria
Games (reviewed): House in the Woods (played 2018), Laboratory (played in February 2019)
Games (not reviewed): –
Group: 5
Website: www.escapeme.at

House in the Woods
Everyone in town knows the old house in the woods. No one wants to talk about it or come close to it. Rumours say that it may have been a place of psychic practices and black magic rituals. Your friend, a journalist, wanted to solve the mystery of the house … now he is in trouble. The last thing you heard from him is a rather disturbing message on your voicemail. If you want to save him, you have to hurry. The rescue mission will not be easy and who knows who or what lives in this house …
The Laboratory
Today is the annual National Science Day. Once a year, every scientific institution in the country opens its doors to those interested. You're lucky to have a ticket to tour the government lab, one of the capital's most mysterious research centres. It is rumoured that during the invention of new drugs, some research is being conducted that violates all international conventions on animal and human rights. You know it's forbidden to break away from the group, but curiosity is stronger than common sense, and this "exclusion zone" is so close … a look into the lab … and you know it was the wrong choice. Think and act fast … at least as long as you can …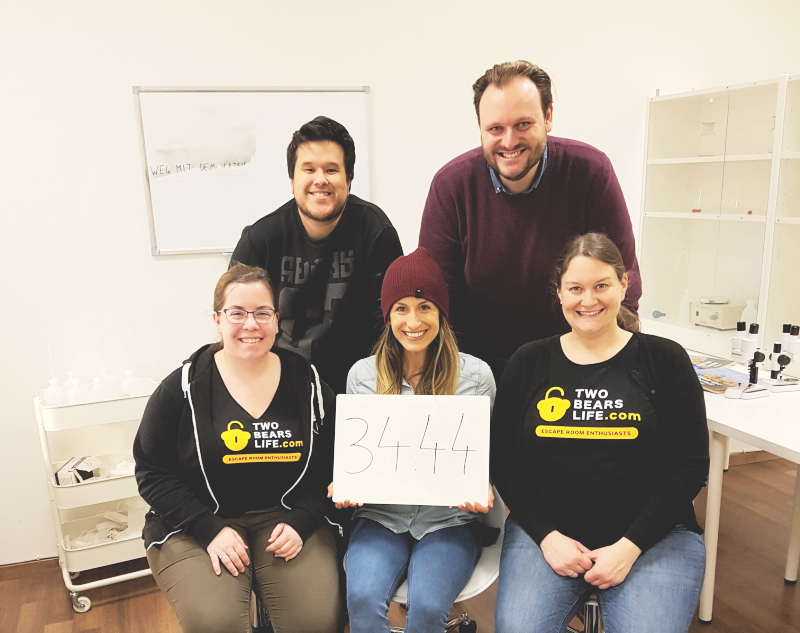 Our Experience
Escape Me was the third Escape Room company that opened in Linz – our hometown. We were super happy to hear about a new venue in town but it took us a bit to actually visit because we wanted to see if they would translate their room(s) to English. Sadly, both games by Escape Me are only available in German (for now), so make sure you have at least one person in the team that can help with the story intro and some written clues. As long as there is one member of the team who can translate, it should be ok.
We played House in the Woods first, as this was the first room they opened and it is also our favourite of Escape Me. The room has a very nice atmosphere and we were surprised to find an actual wooden hut once we entered the game. We played as a group of 5 experienced escapers and we did not any help during the game, so we can not really comment on the hint system. In general, the game-flow was nice and although the outside area could definitely be improved, we genuinely enjoyed the game.
The Laboratory on the other side is a very straight-forward room that does not offer any visual surprises. You start in the Laboratory which is on the brink of disaster, but you never really get the feeling that you are actually saving the world. We also had some issues with the audio system and could barely hear anything – probably the immersion works better when the system is working as it should. The puzzles in this game are harder and we enjoyed using our different team skills for the science-based puzzles. In the end, we escaped on time as well.
Overall, Escape Me in Linz is a great addition to the market and it is our favourite Escape Room venue in the city. Is it worth it for Escape Room Enthusiasts to visit from other countries? Probably not – but if you are in the area or just a short road-trip away, Escape Me is definitely the Escape Room in Linz to visit.
Score
Bears Escape - Escape Me in Linz
Location -

7/10

Production -

7/10

Staff -

7/10

Fun -

7/10
Summary
Escape Me is located in Linz, Austria, and offers 2 games as of this Review. Both games sadly are not translated, which means you will need at least one person that can translate the story and the clues for you – there is not that much to read, so this shouldn't be a big issue. We really loved the House in the Woods game – it is definitely the standout game. The laboratory is also fun, but has a lot of science-based puzzles and didn't impress us visually that much.
Overall, Escape Me is our favourite Escape Room company in Linz and you should definitely check out both of their rooms if and when you get the chance.
Where can I find them?
Have you ever played this escape game or one of their other rooms? Or can you recommend any other location for us to try? Please let us know in the comment section.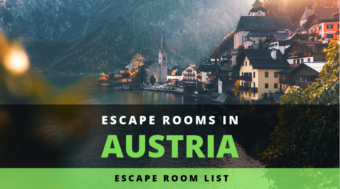 While most Escape Rooms in Austria are indeed located in Vienna, more and more venues open up all around the country. We have compiled a list of all the Escape Room companies in Austria as well as the number of Rooms each venue offers. Vienna / Wien If you are looking for Vienna rooms, please check out our more detailed ...
Read More
Also – check out and follow us on YouTube and Like our Facebook Page to stay up-to-date about our posts. Or check out our other Bears' Escape Reviews in our Escape Room Guide.