Palma Escape Rooms sent us on a journey into the Jungle and ancient Pyramids. But was the trip worth it?
Escape Room Review

– Short Roar –
Palma Escape Rooms
Mallorca, Spain
Location: C/ D'en Vilanova 8, Palma
Games (reviewed): The Jungle, The Lost Ark
Games (not reviewed): Wild West Train, The Wine Cellar
Group: 2
Website: https://www.palmaescaperooms.com
The Jungle
Having heard the mysterious sound of the drums, you and your friends decided to enter an abandoned attic. Upstairs, suddenly you find yourself involved in an unexpected game. Strange sounds and mysterious animals appear from different sides. Not only the result of the game, but your future depends on your steps.
The Lost Ark
A story that will take you to a completely different world: a world full of mystery and antiquity, an authentic environment that will help you escape from reality. Play the role of a group of archaeologists following the trail of an ancient secret. Solve the mystery of the enigmatic pyramid. Expect the unexpected!
Our Experience
Palma Escape Rooms was an interesting experience for us because it left es a bit confused and split on our opinion about the venue. Why? Let's start at the beginning.
They offer a fully translated website and are located in the heart of Oldtown in Palma de Mallorca, so it is very accessible for tourists. You can book online and combine a trip to Oldtown with your visit to your rooms.
We played two of their rooms – The Jungle and The Lost Ark. All their rooms seem to be bought, as we have seen similar marketing-materials and room-layouts before. Which is not a problem, of course, just make sure you have not played a similar-sounding game in a different venue before.
The Jungle is a "Jumanji"-inspired Escape Room in which you have to play a board-game, which guides you through various jungle-themed puzzles and tasks. The room was pretty dark and not every puzzle was very logical to us, but after some help from our gamemaster, we did make it out in around 50 minutes. The rooms looked quite empty and would have benefited from more extra decoration aside from the puzzles themselves – while we do agree that no rooms need to add extra red herrings, decoration should not be spared.
The Lost Ark takes you into a pyramid with the task to find your way out again. Like the previous room, the production level was quite nice and we did enjoy the puzzles in this room as well – sadly, some parts seemed to show a lot of "wear and tear", with one painted cryptex not even showing the arrow mark anymore of where to put the solution. Again, the room was quite dark, which fit the theme, but made working with some items a bit challenging. Sadly, the final puzzle didn't work properly and the gamemaster had to come to let us out of the room.
The overall experience was quite mixed, as the rooms looked good at first glance, but clearly lacked the love to detail. Not only could they have improved on the decoration, some puzzles needed proper maintenance. The other downside for us was our gamemaster. Although he was not unfriendly, he clearly struggled with english and frankly looked like he didn't want to be there. We do understand that this is a very specific problem we had with our gamemaster, but we just can't ignore it.
He was alone at the location, taking care of our games as well as having to talk to walk-in-customers, so we do understand why we sometimes had to wait a significant time when we asked for clues – but there was a time in the Lost Ark where we felt like he completely forgot us.
All in all, we did like the first impressions of the rooms, some of the puzzles were different and fun, but the overall experience was lacking. The potential is there – it was just not fully used.
Score
Bears Escape - Palma Escape Rooms in Mallorca
Location -

8/10

Production -

6/10

Staff -

5/10

Fun -

6/10
Summary
Palma Escape Rooms in Mallorca offer bought Escape Room experiences with good first impressions. We played The Jungle and The Lost Ark, which both were fun, but lacked some love to detail. Sadly our gamemaster wasn't the best either. Overall, we still had fun, but we don't think it is a must-do in Mallorca.
Where can I find them?
Have you ever played this escape game or one of their other rooms? Or can you recommend any other location for us to try? Please let us know in the comment section.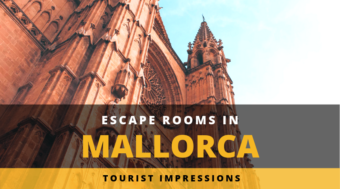 Tourist Impressions from Escape Room Enthusiasts Mallorca is one of the big Party-Hotspots for europe's holiday seekers. But next to Party scene, the Island also offers beautiful beaches and landscapes, away from the noisy areas around Arenal. But what about Escape Rooms? Does Mallorca offer Escape Room experiences worth travelling for? In general, Mallorca does not have many Escape Room ...

Also – check out and follow us on YouTube and Like our Facebook Page to stay up-to-date about our posts. Or check out our other Bears' Escape Reviews in our Escape Room Guide.