During the last year, we have visited Budapest not one, not two, but three times. We fell in love with the capital of Hungary because of its hip look & feel, the great amount of awesome and diverse restaurants & bars and most of all, the huge number of Escape Rooms. We will kick-off our Budapest Escape Room Review-Tour-De-Escape with one of our all-time favourites: E-Exit!
E-Exit
Budapest, Hungary
Location: Nyár street 27, District 7. (Jewish quarter), 1072 Budapest
Games: Heaven & Hell, 1984, The Circus
Group: 2 – 5 People
Website: www.szabadulos-jatek.hu
Our Experience
We discovered E-Exit on our first trip to Budapest, while walking to a different Escape Room close to our hotel. On the way back, we couldn't resist to stop by. We made a quick reservation for the next day and asked for their "must do" room. They recommended to try their newest room, which was "Heaven & Hell". We were so impressed with the room that we went back the next day to play "1984". On our second trip to Budapest, we took our full Bears' Escape Expert crew. Once there, we went straight to E-Exit to show the girls "Heaven & Hell" as well as doing the last room "The Circus".
The Circus
Enter the Little Circus! The place where you must not make any mistakes. If so, you will remain in the hands of the cruel circus director forever!
This was actually the last room we did, but it is their beginner room, so we will start with The Circus of E-Exit. The story is fresh and interesting. You are captured by a crazy circus director and you have to find a way out of his evil circus. The rest of the story does not really matter much for the room itself, but it sets a nice theme for the room. The Circus has a lot of nice details, although it is quite visible that it is their oldest room. On the other hand, you don't expect a creepy circus to look new, so it actually fits well with the concept.
After starting in a rather small room, you will soon find yourself in a circus tent with a larger area. Inside, most of the riddles are fitted for bigger groups and not linear. You will not find too many locks, which is always a plus, and the games all fit well with the theme.
We made it out in a rather good time without needing any hints, but that was expected since they told us this is a beginner room. Nevertheless, we enjoyed the theme as well as the puzzles.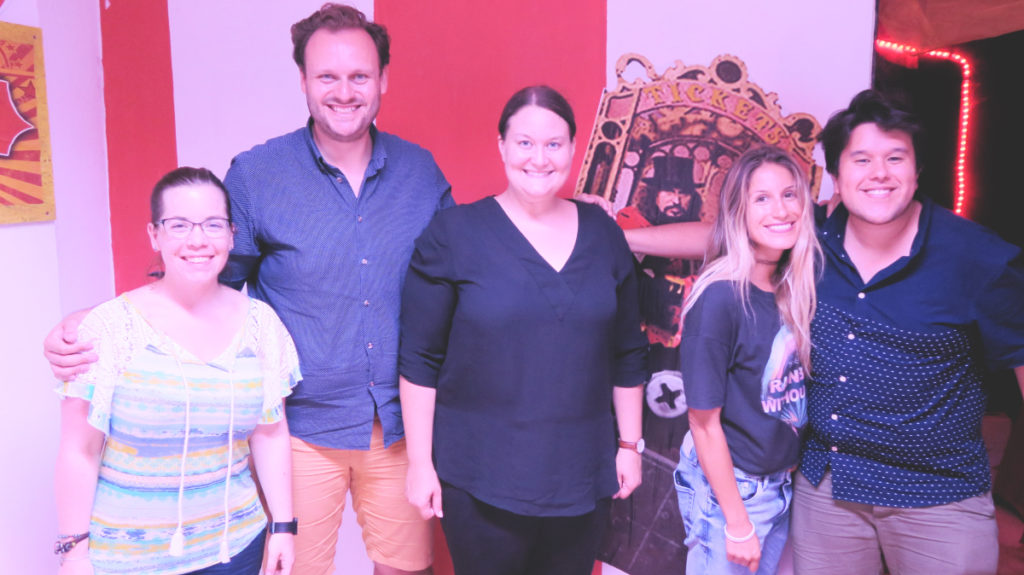 1984
We live in terrible times. Big Brother and his terrorist organization can see, hear and listen to anyone and anything. Even your thoughts are not safe! A pleasant memory… a snapshot of a dream with a field of flowers – the Thought Police strikes straight away…
We did 1984 of E-Exit rather late in an Escape Room heavy day. After the door closed behind us, we were super excited but it took us way too long to figure out the first puzzle to actually enter the big escape room area. Which was totally on us, but hey, it got us extra motivated for the rest of the room.
You find yourself in a bunker-like scenario where your goal is to escape before you are caught, which is a little bit Prison-Escape-Light but at least it is not a literal prison. The puzzles were tougher than in Circus and we needed some clues to find the right connections. I am giving the room here the benefit of the doubt and will say that it was probably us being tired from a day full us Escape Rooms, because the puzzles made sense after we got some nudges in the right direction from our game-master.
The room gets better with each area you discover and has nice little twists that neither of us expected. When we finally made it out in time, we were super exited and had a great time.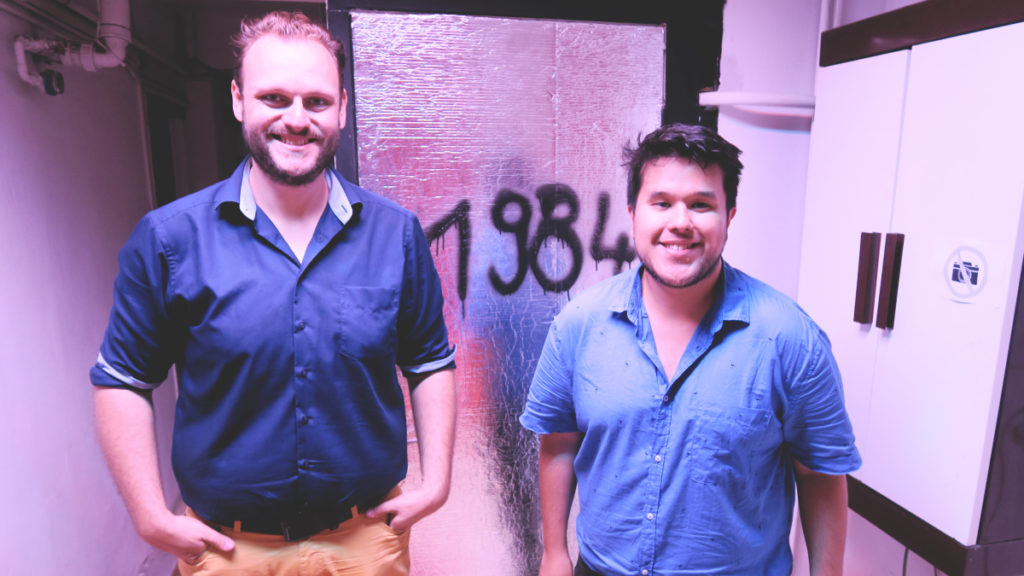 Heaven & Hell
You wanted to know something about heaven and hell. But to do this, like all mortals, you must die first.
This time you're lucky: hibernating yourselves is enough for now. After the adventure, you will use a defibrillator so that you can return to life.
I have to say right out of the gate – Heaven & Hell of E-Exit is one of the craziest, most interesting and creatively -themed rooms we have ever played. You literally  go through various stages of dying as well as coming back to life while playing this room.
Sounds weird? Yes, but it also super cool and awesome. The start of this game is already impressing and very unique. Each stage of the game has interesting elements and a unique room design. The game flow works well and when we got stuck, the clues from our game-master were on point without giving away the solution.
Since we brought our friends back to E-Exit to show them Heaven & Hell, we were even allowed in the control room and we could watch them play. They had a great time as well, beating our time by at least 10 minutes (if not more).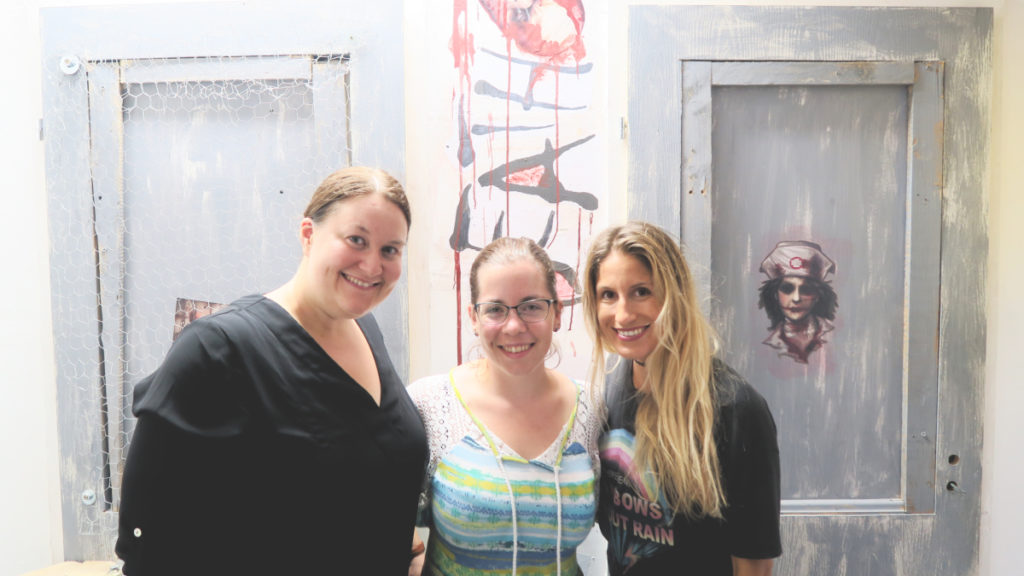 Final Roar
I have to be frank with you – we enjoyed the time in all the E-Exit games a lot. So much, that the only negative thing we can say about them is that they have not yet opened or changed one of their rooms so we can try another one.
A lot of rooms in Budapest have great and different-from-the-norm themes, but seldom did we have such a good experience with a unique room idea, a nice and enthusiastic game-master as well as a very nice pricing level.
To point out some low points as well – the Circus room definitely shows its age a little bit and they have (most of the time) just one game-master sharing his attention to multiple rooms (which is a standard in Budapest though).
If you go to Budapest, try to book at least Haven & Hell, since this is still one of our all-time favourite rooms. But E-Exit is worth a visit anyway. Tell them we sent you and ask them for a new room for us, that would be awesome.
Score
Bears Escape - E-Exit Budapest
Location -

8/10

Production -

9/10

Staff -

9.5/10

Fun -

10/10
Summary
Heaven & Hell is one of our all-time favourite rooms and an absolute must for any escape room fan. But all their rooms are creative and have great puzzles and ideas.
The staff was super nice and their rooms are very well prized.
We came to E-Exit four times and always left with huge smiles on our faces. Well done.
Where can I find them?
[mappress mapid="18″]
Have you ever played this escape game? Or can you recommend any other location for us to try? Please let us know in the comment section.
Also – check out and follow us on YouTube and Like our Facebook Page to stay up-to-date about our posts. Or check out our other Bears' Escape Reviews in our Escape Room Guide.