Cubick Escape has a very little information about their room on the website, so we were in for a big surprise. Are you up for it?
Escape Room Review

– Short Roar –
Cubick Escape
Madrid, Spain
Location: Calle de la Sal 2, 1B. 28012 Madrid
Games (reviewed): The Interview
Games (not reviewed): Boom Escape
Group: 3
Website: www.cubickroomescape.es/madrid/
The Interview
A well-known company is looking to hire – the job positions require high qualifications and desire to work hard to get juicy rewards.

Cubick Room Escape is offering its rooms for the main test of the selection process. If you want to be part of the process, you must present yourself at our facilities at the agreed time. Your personal and professional data is not necessary, since we already have them. Do not think about coming alone, you will need helpmates more than ever …

(Google Translate was our friend)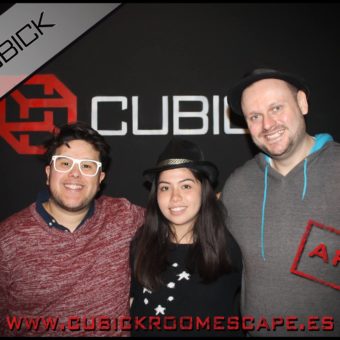 Our Experience
Cubick Escape – The Interview was the biggest surprise we had in Madrid and we really enjoyed the game. The secretive nature of it makes it hard to review it though, since we don't want to spoil the room for you. 
After starting the game, you will be blindfolded and assigned to your starting position for the assessment test. From there on out, you will progress through the "assessment process" and find multiple levels of it. The puzzles were all planned out very well and we rarely needed any help.
Don't show up early but exactly at the start of the game as there is no waiting area or reception. Our gamemaster didn't speak much english, but the game only has one section where language is needed and we were told that it wouldn't be a problem if english speakers will play as the game masters should be prepared for that (we can not verify that though – so let us know, if you had any problems during the game)
The game surprises you from start to finish, never letting you know exactly what the next stage is gonna look like or how the room will progress. The puzzles went from normal lock-based logic puzzles to electric-no-lock puzzles and presented a very well balanced gameplay. The last section was a bit challenging for us – as searching and memory-based puzzles are our weakness, but thats certainly not the rooms fault.
All in all, this was our favourite Escape Room room experience in Madrid, as the overall game flow and fun we had as a group was just super unique.
Score
Bears Escape - Cubick Escape in Madrid
Location -

8/10

Production -

9/10

Staff -

7/10

Fun -

9/10
Summary
Our Nr. 1 game in Madrid – an absolute must if you like Escape Rooms and are in the area. Check beforehand if they have english-speaking game masters on hand though. We had a really good time.
Where can I find them?
Have you ever played this escape game or one of their other rooms? Or can you recommend any other location for us to try? Please let us know in the comment section.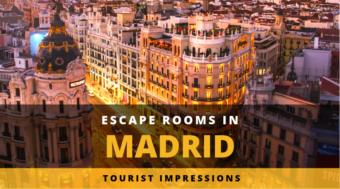 We spent New Years Eve 2017 to 2018 in Madrid / Spain. It was not a full-on escape room enthusiast trip, but we were able to combine a family adventure with as many escape rooms as possible. Naturally, we were not able to visit ALL Escape Rooms in Madrid, as there already are a lot of companies present. Never the ...

Also – check out and follow us on YouTube and Like our Facebook Page to stay up-to-date about our posts. Or check out our other Bears' Escape Reviews in our Escape Room Guide.