The last Escape Room we did on our One-Day-London Escape Room Tour was a mystery-themed game located in an old film editing studio. To keep the thrill level high, we made our appointment at "Secret Studio" in London shortly before midnight.  Let's start our Review.
Secret Studio
London, England
Location: Wentworth St, London E1 7EZ, UK
Games: Secret Studio
Group: 3 People
Website: www.escapeintime.co.uk
Our Experience
The day was coming to a close and after preventing the end of the world not once but multiple times during our London stay. After taking a short break for dinner, two of our brave team members excused themselves. The day had already taken a toll and the last room was rather late. Not afraid of a challenge, the remaining three members of the Bears' Escape expert team walked to the last location – the mysterious Secret Studio – located on Wentworth Street. After booking our time, we got an email with a secret phrase for the entry and a very specific time to arrive – and not earlier, since this could potentially spoil the experience. Rather curious, we waited a little bit outside of the door before ringing the bell and starting the game.
Secret Studio
Beneath the dark streets of London Town lies an old film studio, lost in time, waiting for you to release its secrets.

Once locked inside Secret Studio you'll have just 60 minutes to solve its puzzles and escape. Stay calm, keep your wits about you and you might just escape the cutting room floor!
After a greeting over the intercom that set the tone perfectly for the coming hour, we descended into the basement of the building and were welcomed by our game – master, who quickly went over the rules of the game. Mysterious things have been happening inside an old editing room of the studio. Our mission was to find out what happened to the last film editor, who was working in the room and who disappeared without a trace.
Once inside the room, it took us a couple of minutes to actually connect with the room. We got introduced to the last movie the editor was working on in a movie clip and got a short message from the lost film editor – than the game really started. We felt the late hour and our minds were already tired after the whole day of exploring the city and finishing a couple of escape rooms before. The film editing room looked old and used – which is totally fitting to the story, but it throw us off a little bit after doing a lot of polished room during the day. It took us quite some time to figure out the first couple of puzzles and we were unsure if this first room was actually all the escape room had to offer.
Without spoiling anything more, the game took a big turn after we found the number for the look on the big closet in the room. The game evolved from this point on and delivered a very cool and creepy experience.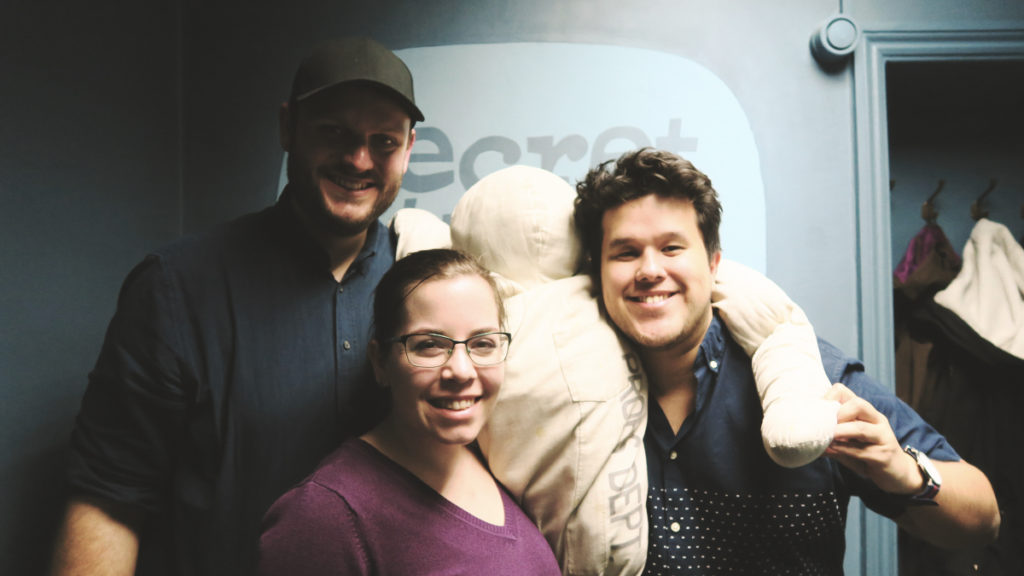 Final Roar
We really enjoyed the experience at Secret Studio from the very first moment. We had no idea what to expect since the website is rather mysterious and does not offer a big introduction. Once you arrive at the location, you get welcomed in a very cool and different way – and although it was nothing spectacular or elaborate, it set the tone from the moment you enter the building and we very much appreciated that.
Is the game creepy? Yes, there are definitely scary elements in the game. Is it gory? No, absolutely not. They scary elements fit very well into the story and are very subtle and they work surprisingly well – at least for our group. The gamemaster must have had a good time watching our group of three advancing through the room.
We had a couple of minor issues with some puzzle elements. Early on, we are still not sure if we actually figured out how to solve the monitor puzzle correctly or if our gamemaster just triggered the solution. There is also a puzzle included that needs you to find certain locations on a map – this could be a problem for tourists (but it is just a small task and the map has some clues on it too). We struggled also with a digital puzzle later on, because we couldn't figure out how to actually use it – but a hint, if you encounter it: your gamemaster actually tells you how to work this puzzle before you start the game – just listen closely.
The level of production is good – like we said in the review, the first room let us down a little bit, but once you advance further into the game, you see how much level of detail and thought was put into the whole game design. We also loved the video elements of the game – it helped a lot with the immersion level.
We had a really good time doing the room – but we also had the perfect group size. I would not recommend a bigger group than four for experienced players, since the puzzles are rather linear. First timers could, of course, enjoy the room also in a bigger group of up to 6 people.
Score
Bears Escape - Secret Studio in London
Location -

7/10

Production -

8/10

Staff -

8/10

Fun -

9/10
Summary
Secret Studio was a very positiv surprise for us. We did not have any big expectations, since we did not read too much about the experience on the website and had a great time. The story of Secret Studio in London is scary, but not gory or horrifying. It is a great mystery story with some unexpected twists and nice puzzles.
The waiting area is a little bit small, so do not come too early with bigger groups. All in all, we had a really good time.
Where can I find them?
Have you ever played this escape game? Or can you recommend any other location for us to try? Please let us know in the comment section.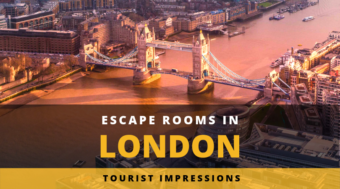 We love to travel to various cities and try to do as many escape rooms there as possible. We spent a whole day in March of 2017 in London, United Kingdom, and did a couple of escape rooms. Considering our tight schedule, we did not even scratch the surface of all the different room options you can find in London ...
Read More
Also – check out and follow us on YouTube and Like our Facebook Page to stay up-to-date about our posts. Or check out our other Bears' Escape Reviews in our Escape Room Guide.