One of our personal favourite Escape Room venues in Vienna is Time-Busters. We have visited one of their locations already two times – so the question only remains. How good are they games really? Let's get the Escape Room Review started:
Time-Busters
Vienna, Austria
Location 1: Rembrandtstraße 24, 1020 Vienna, Austria (referered to as L1)
Location 2: Untere Augartenstraße 42, 1020 Vienna, Austria (referred to as L2)
Games (reviewed): Labyrinth (L1), The Mine (L1)
Games (not reviewed): On the Czar's Trail (Outdoor), The Vault (L2), Tomb of Montezuma (L2), Control Chamber (L2)
Group: 4
Website: www.time-busters.at
Our Experience
The first game we have played at Time-Busters is also one of the hardest they offer. Naturally, we enjoyed it and went back a second time to check out one of their other rooms. It was refreshing to see that both of the rooms we have done did not resemble each other at all. But let's start at the beginning. At the end of 2016 we visited the first time and, because we like challenges, went straight for the room "Labyrinth". A 90-minutes game where you actually gat half of your money back if you manage to finish the game without hints under 60 minutes.
The second room we booked in spring of this year (2017) and we went for the Mine. Both games were very different and actually felt like they were done by completely different game designers. Which is funny, because they are literally next door to each other. One point of caution though: Time-Busters have two locations in Vienna, the first time we actually went to the wrong one. We have marked the games with the actual in the description. On a positive note, they moved one of the locations and they are now much closer to each other – so even if you go to the wrong one, it should not be a big deal anymore.
THE LABYRINTH
You are here to challenge your own limits? You will find them in a 70 square meters maze with numerous rooms. You are doing well, but are you well on track? Luckily the Game master gave you the Walky-Talky and now he may lead you back to the right way. Your Team is led into a maze and it seems there is no way out. You will have one hour to find and open the Exit Door.

More than 12 doors to open! But is always a door the right way forward? Three times you may contact the Game master via Walky-Talky for assistance. Then you will be lost forever. Once your team is divided and distributed on several locations teamwork will be essential and without a constant communication you will be hopelessly overburdened with finding the exit. The time lock at the Exit is adjusted to one hour only! So there is not much time left. Hurry up!
The first room we did was the Labyrinth – a challenge room that promises you half the money back if you do it under 60 minutes without any help or hints. Easy for experts, right? Well, they would probably be pretty stupid if they made it easy for players to actually win this challenge. It was an interesting challenge though, since we forces ourselves to not use any hints for most of the game – until we got stuck and could not move on anymore.
But let's start at the beginning. We nearly had our full Bears' Escape Expert group with us when we went for this room – of course. And the more people you bring for this room, the better. The room itself has no story and no real setting – just expect one puzzle room after the other stacked full with games, puzzles and riddles. So when the door closed behind us, we found ourselves faced with a lot of doors and more ways to open them. In some areas of this room, you will be tempted to just go for the "trial and error" approach, which we also did – at least in the beginning. We actually had an "advantage" in the challenge since one of the game elements was broken – sadly the host was not able to repair the element and just bypassed it for us. Sure, considering the time-challenge, this was actually to our advantage. But it always sucks to have broken game elements in room – especially if you see them and you could see that it would have been a fun challenge.
While the game went on, the puzzles and tasks god harder and more obscure – some of the challenges could be a bit problematic for tourists. We hit the 60 minutes mark when had finished around 80 % of the game. We managed to not ask for a clue before that, but we really needed one at this stage and bypassing this "barrier" allowed us to actually ask and continue with our task. In the end, we finished the game with around 15 minutes left on the clock. But a very "obscure" puzzle in the end really took a toll on us. Nevertheless, we really enjoyed this as a group – but it is a fairly had game and you should not go for this, if you want to try your first room.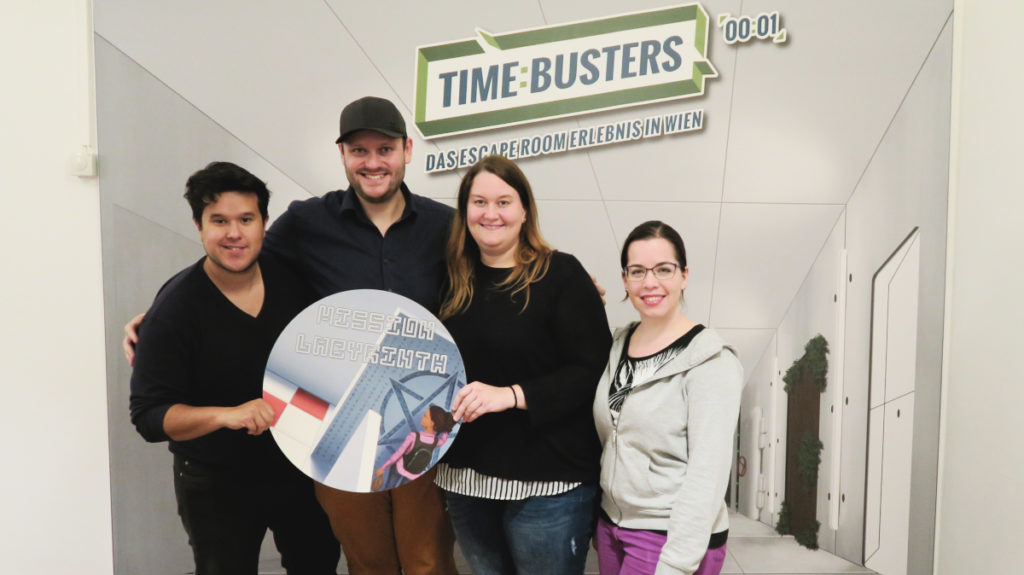 THE MINE
Who was it who at all costs wanted to explore this abandoned mine with its dark, damp galleries and lost or forgotten objects? Well, it doesn't really matter, because actually you all wanted to undertake a forbidden mystery tour and feel this creepy excitement in your stomachs again, didn't you? Fair enough, but may be you shouldn't have broken that lock at the entrance open and ignored the warning signs!

And while these thoughts are crossing your mind, the planks at the gate start to creek and clank louder and louder until finally the adit comes tumbling down in a roar. At this point the old explosion-proof mine telephone unexpectedly rings. You lift the receiver and are petrified, the unavoidable is looming ahead.
On our second visit, we went for the Mine. We were one person less, but a group size of 4 people was actually an ideal size for this room. Before the game started, the gamemaster handed us some hard-hats and took us out and through a tattoo-studio next door, which was a little bit awkward, but hey – we reached the entry to the mine. One the game started, we were impressed by the design of the game. Since the Labyrinth had zero room design, we did not expect to find ourselves in a room that looked like we were really in a mine in a mountain. The game itself was mostly linear, although we were able to split up into smaller groups and search and solve some stuff independently.
The gameflow well and if you need help, you can use the mine-telephone to all the gamemaster. We ran into two rather big problems though: the game has not only one but actually two game-breaking elements in the room. What does that mean? If you are not careful and remove items from their placement (which was possible, when we played the game), you could actually destroy your path to solutions for those puzzles. It did not happen to us with the first puzzle, but we fell into this trap at a later section of the game and there was no way for us to recreate the conditions that would have allowed us to continue the game. Thanks to information we got from the gamemaster, we could continue on. But there is a very easy way to avoid this and we have no idea why they have not done that (at the time we played).
Never the less, we made it out and nearly broke the record – even without our "mistake". Never the less, we had a really good time in the Mine.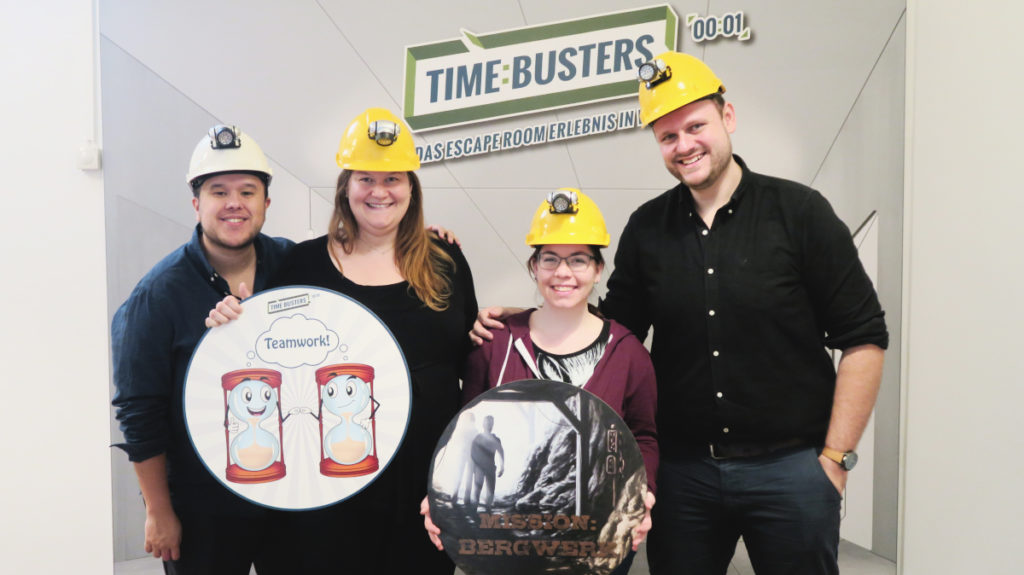 Final Roar
We said it in the intro and yes – Time-Busters is one of our favourite Escape Room venues in Vienna. They offer a big variety of rooms and the two rooms we have played for now were very different and unique. Although game-masters did good work and helped, when needed, we we had some instances when we waited a couple of minutes to get a reaction – which sounds like nothing, but when a clock is ticking down, it feels like forever.
We faced some technical problems in the Labyrinth and some game-breaking gamedesign issues in the Mine – which, sadly, is problematic. On the other hand, we did enjoy both games a lot. We appreciated the Labyrinth for the sheer size – it is truly one of the biggest Escape Rooms you can find in Vienna.  And we loved the look and room design of the Mine. So yes, while some factors lowered the overall score, Time-Busters is one of our favourite venues in Vienna and we can't wait to try their other rooms.
Score
Bears Escape - Time-Busters in Vienna
Location -

7/10

Production -

6/10

Staff -

7/10

Fun -

9/10
Summary
Time-Busters in Vienna is one of the bigger Escape Room venues in Austria and one of our favourites. We have done two of their rooms, both of which were pretty impressive. Be careful when booking about the location, since not all of their games are located in the same building (although pretty close to each other by now)
The gamemasters were mostly very attentive and nice – although there were some longer Pauses during our Labyrinth game. Sadly, there were also same game-breaking elements in the Mine as well as technical issues in the Labyrinth, so we have to account hat in the rating. All in all, Time-Busters is a prime location and the mentioned technical issues aside, a prime location in Vienna.
Where can I find them?
Location 1: Rembrandtstraße 24
Location 2: Untere Augartenstraße 42
Have you ever played this escape game or one of their other rooms? Or can you recommend any other location for us to try? Please let us know in the comment section.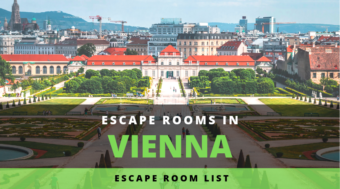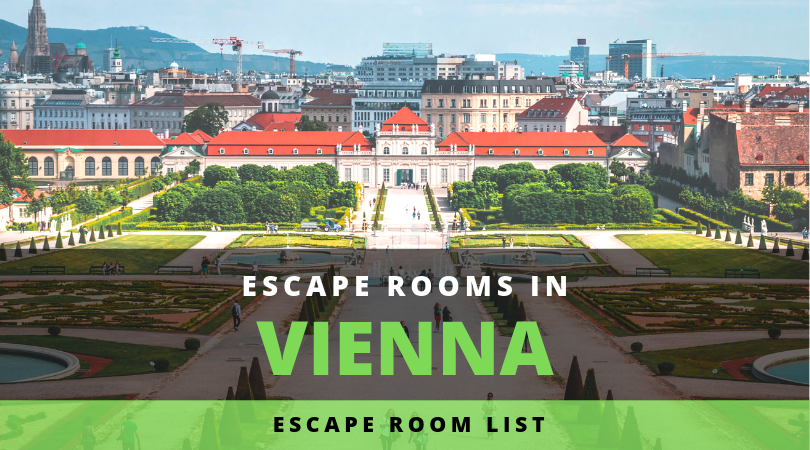 We are living in Austria - so naturally our most travelled destination for Escape Rooms is our capital - Vienna. The biggest tourist city in the country offers a lot of different rooms - it is definitely the go-to city in Austria for Escape-Room Enthusiasts. Since we are a little bit limited in Austria, we try to not to play ...

Also – check out and follow us on YouTube and Like our Facebook Page to stay up-to-date about our posts. Or check out our other Bears' Escape Reviews in our Escape Room Guide.