The second location we visited in Rome offered quite a different experience than the first one. Resolute Escape Rome offers three rooms, with one theme that caught our attention right away: The Room of 50 Shades. Of course we had to check out what that Red-Room inspired escape room has to offer. As a bonus, we travelled back in time and discovered the Secrets of Egypt in their second room. Lets get the Review started:
Resolute Escape
Rome, Italy
Location: Viale Dello Scalo San Lorenzo 51, 00185 Roma, Italy
Games (reviewed): The Room of 50 Shades, The Secrets of Egypt
Games (not reviewed): Dracula's Castle
Group: 2 People
Website: www.escaperoomresolute.it
Our Experience
While exploring our Escape Room options in Rome, Resolute Escape stood out right away with their 50 Shades room. Like we have stated before, general theme creativity surely does not matter too much for new players who just start out with escape rooms, but with our travel and escape room craziness, we always prefer to check out themes we have not played 50 times before. And sure, with the 50 Shades room, Resolute Escape clearly had us hooked. Now, to be fair, we also did the Secrets of Egypt room, because we wanted to do a second room and their Dracula room didn't fit into our schedule. Never the less, both of the rooms had their own flair.
The website does offer an english version, so you should be able to book everything yourself – even without having to go to google translate, which is a good start (for Rome). We took a tram to the location, since Resolute Escape is located a little bit outside of the city centre. It would have been a short ride, if it wouldn't have been for the Italian traffic and their weird behaviour of also using the tram lane with their cars, totally blocking off the tram when there is a traffic jam. Which meant we had to get out of the packed public transport and walk to Resolute Escape. Which I just made sound like a huge ordeal, but it actually was not that dramatic.
We were welcomed by a nice group of hosts, who spoke english, offered us some chocolate and showed us to a small waiting area. After quickly using the bathroom and taking a sip of water after our not-really-too-exhausting walk, we were ready to get started.
The Room of 50 Shades
Mr. Grey? …… Are you ready for an adventure in a room that in its elegance hides his transgression? A world of Taboo to deal with, an invasion in the most private and intimate sanctuary of a successful entrepreneur. Move inside the red room, challenge its secrets, between Christian and Anastasia's personal items, within the riddles of a life full of mystery. Observe carefully the tools of their forbidden games and their love outside the box. Do you think you can do it? …. You're the only one able to find out the truth, in this room unique in the world, and Seattle will be at your feet.
The briefing we got before the room was fairly standard – you will be given some items, get told to not undue the bed, because there is nothing there and off we went into the room. Although knowledge about 50 Shades of Grey is not necessary to play the room, Resolute Escape clearly works and runs with the 50 Shades inspiration, so having read the books or watched the first movie surely improves your experience. The room is advertised for 2 to 10 players, which is a big gap between minimum and maximum players. This raised some flags of concern for us, since a room designed for 2 to 4 people should function differently than one designed for 5 to 10, and sadly, those worries were not completely unfounded.
The room involves a lot of searching and although the area is not too big, it did take us some time to find all the items needed to actually start the first puzzle – or even to understand what we were supposed to do. They cleverly work with the setup of the story and try to intertwine it into the riddles. Of course that's great, but it also confronted us with he problem that, because we knew the story, we sometimes interpreted clues differently than we should have, because we worked with Information that the room didn't even offer.
You can not directly ask for clues, but the game master gives you clues over a screen in the room whenever he or she feels like you need help. That worked for most of the room – but when we ran into a technical malfunction, we had no clear way of telling them that the item in question wasn't working. They do listen to the audio in the room though, so it didn't take long for them to figure out that something was wrong. In the end, the one way communication got a little bit frustrating for us.
The room had really interesting puzzles and tasks, sadly, we did not manage to finish all of them in time. Most of them have a clear connection to the theme, although not all were completely logical to us. It was a fun experience, but you may want to bring at least 4 people for this one, as there is a lot of stuff to do.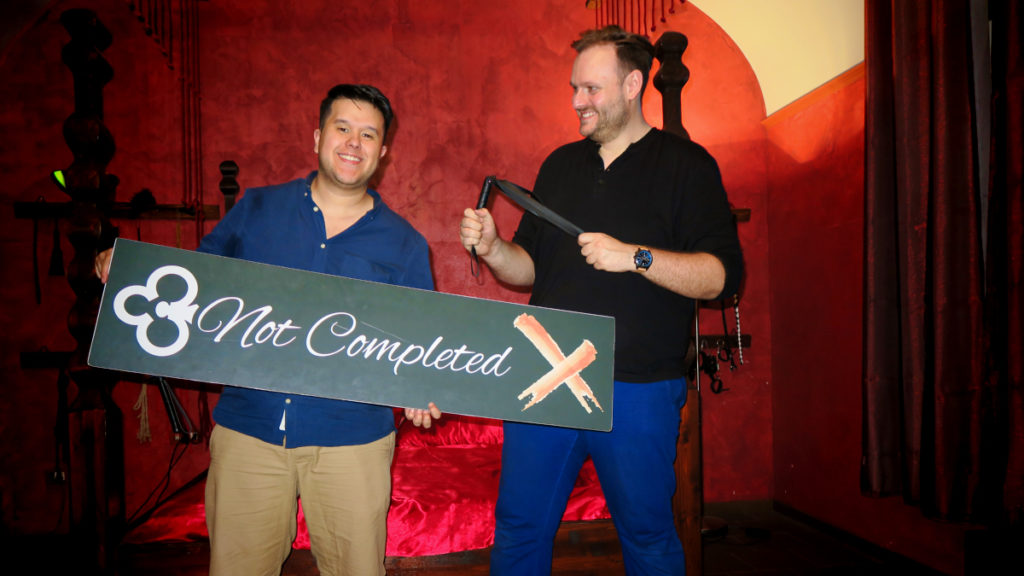 The Secrets of Egypt
The myths of the pyramids are waiting from years, of someone with a mind brilliant enough to discover Their secrets.Inside there you'll meet them, rummaging in Their temples with the impenetrable eyes of Horus judging your actions. A real invasion in the mazes of time in search of the secret of the Pharaoh. It will not be a simple quest, but the Gods are watching over you … Choose the right ones and you'll be a new Son of the Nile.
After a short break, we were ready for the second – more traditional room. Egypt rooms are all over Rome, which is funny, if you consider that they could do a lot with roman history (and no, please don't give us a lesson on how Roman and Egyptian history is connected). Well, never the less, we were about to travel through time and find out what happened to the team of adventurers that tried to solve the secrets of Egypt before us and never returned. There is a whole time travel twist to the story that actually makes this room a little bit different and cooler than a "normal" Egypt room – at least in our opinion. And quite confusingly, they don't even give you that information in the room description (check out the quote above) – but you do get in at the briefing on site, so no spoiler here.
Anyway, we got our briefing in the room and some items to take with us. It was game-time again. Production wise, it was not the most stunning Egypt themed room we have seen, but it holds up to the general production level we experienced in Rome. The puzzles were fun, though we also struggled with the logic of some of them. This time, the clues we got were on point, but we also did not need that much help as in the first room. The room holds some nice surprises and it is always good to have a second or third look at items and darker corners – just to make sure not to miss anything.
We really liked the ending of the game – it was fun and cool and gave the room something to remember.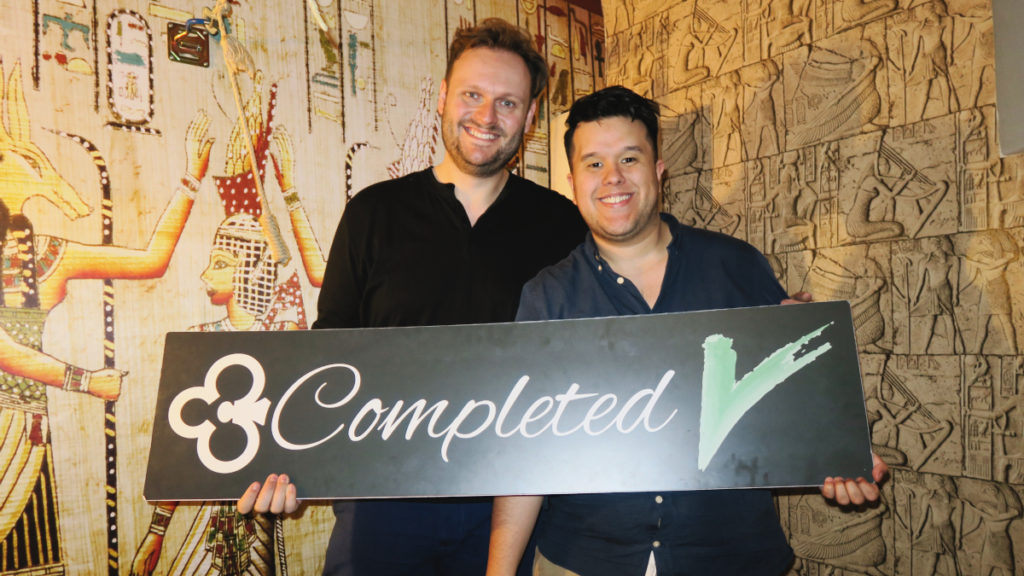 Final Roar
The two of the three rooms we did at Resolute Escape Rome had something special about them, but we struggled a little bit too much with the logic in the 50 Shades room to our liking. We might have fared better with a bigger group, but that's hard to judge after the fact. The clue-system did not always work the best for us. In the end, we were either just not fast enogh or not enough people for the 50 Shades room. Thankfully, that was not a problem in the Secrets of Egypt.
Both rooms had some interesting puzzles and twists, while also asking the player for some leap of logic from time to time. The hosts were really nice. In the end, we did enjoy our time in the rooms.
Resolute Escape advertises the 50 Shades room for 2 to 10, whereas we would actually say the ideal group is more like 4 to 6. The Egypt room is actually a smaller space and if you are really in there with 8 people, it might get crowded. We think 2 to 5 people is the perfect group size, considering the amount of tasks & puzzles, as well as the size of the room(s). All in all, one of the better locations we visited in Rome.
Score
Bears Escape - Resolute Escape in Rome
Location -

6/10

Production -

7/10

Staff -

8/10

Fun -

7/10
Summary
Resolute Escape in Rome is fully accessible for tourists and english-speakers. The location is a little bit outside of the city centre, but easily reachable by tram. The staff was very nice and welcoming.
We did two of their three rooms: The Room of 50 Shades is an escape room spin on 50 Shades of grey and works well with the themes of the movie, while not being kinky or weird about it. The room has a lot of stuff do to, so bring at least 4 people (or be super fast)
The Secrets of Egypt offers a nice spin to the Egypt Tomb Escape Room classic, with a nice ending we really enjoyed. One of the better locations in Rome.
Where can I find them?
Have you ever played this escape game or one of their other rooms? Or can you recommend any other location for us to try? Please let us know in the comment section.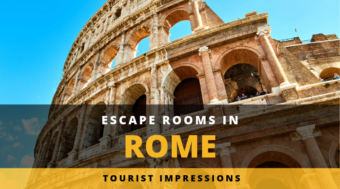 We love to travel to various cities and try to do as many escape rooms there as possible. We spent a weekend in May 2017 in Rome, Italy. As always, we were limited on time, but we tried to check out as many Escape Room venues in Rome. Naturally, we ...

Also – check out and follow us on YouTube and Like our Facebook Page to stay up-to-date about our posts. Or check out our other Bears' Escape Reviews in our Escape Room Guide.