Mission Escape asked us to find a piece of stolen art from the Lost Art Gallery. But did we enjoy the Escape Room?
Escape Room Review

– Short Roar –
Mission Escape
Mallorca, Spain
Location: Calle Ramón Berenguer III, Palma de Mallorca
Games (reviewed): The Gallery of Lost Art
Games (not reviewed): –
Group: 2
Website: https://www.missionescape.es
The Gallery of Lost Art
Mr. Guevara, the ackward assistant of the gallery, is meeting you in this misterious gallery of lost art.
The eccentric assistant needs you to help him to discover where is Miró's masterpiece El Segador, which was stolen on 1937.
Our Experience
Mission Escape does have a great rating on Trip Advisor, so we had high expectations when we arrived at the location. Sadly, we did not really enjoy our game.
We booked The Gallery of Lost Art, which sends you into an art gallery to find one piece of stolen art. Sadly, the room looked like most of the art was stolen and replaced by print outs. And don't get us wrong, we do understand that not every venue has the resources to build big setpieces, but this art gallery sadly did not impress us at all.
The puzzles or tasks were okay, but we spent most of our gametime wandering through the room(s) to look for the actual puzzles. When we needed a hint, we had to call the gamemaster on an old cellphone we got at the early stages of the game which didn't work properly either.
All in all, the experience was lacking and the room design was very very basic. Our gamemaster was very nice, but the communication over the cellphone was hard and, quite frankly, annoying. The room is still labeled as "new", but we doubt that.
At the moment of this review, the website states that they are actually building two new rooms – of course, we did not play them, so this review is just for the Gallery of Lost Art.
Score
Bears Escape - Mission Escape in Mallorca
Location -

6/10

Production -

4/10

Staff -

7/10

Fun -

4/10
Summary
We played one room at Mission Escape in Palma de Mallorca – the Gallery of Lost Art. Sadly, the room itself felt very basic and never gave us the feeling that we are in a real Art Gallery. The game itself was also basic and got annoying when you had to call the gamemaster on a mobile phone to get some hints. We wouldn't recommend that room.
Where can I find them?
Have you ever played this escape game or one of their other rooms? Or can you recommend any other location for us to try? Please let us know in the comment section.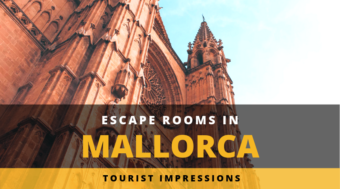 Tourist Impressions from Escape Room Enthusiasts Mallorca is one of the big Party-Hotspots for europe's holiday seekers. But next to Party scene, the Island also offers beautiful beaches and landscapes, away from the noisy areas around Arenal. But what about Escape Rooms? Does Mallorca offer Escape Room experiences worth travelling for? In general, Mallorca does not have many Escape Room ...
Read More
Also – check out and follow us on YouTube and Like our Facebook Page to stay up-to-date about our posts. Or check out our other Bears' Escape Reviews in our Escape Room Guide.