Five Mon-Keys is located fairly central in Madrid and offers one escape room that can fully be played in English. Did we solve the mystery of Dr. Bloom's Experiments?
Escape Room Review

– Short Roar –
Five Mon-Keys
Madrid, Spain
Location: Calle de la Sal 2, 1B. 28012 Madrid
Games (reviewed): Dr Bloom's Experiments
Games (not reviewed): –
Group: 3
Website: www.fivemon-keys.com/en/
DR BLOOM'S EXPERIMENTS
We've been following trail of Dr. Bloom for years and finally we found the location of her old center of experiments.
We have serious evidences that she has developed the formula to control human behavior.
Now, with your help it will be ours.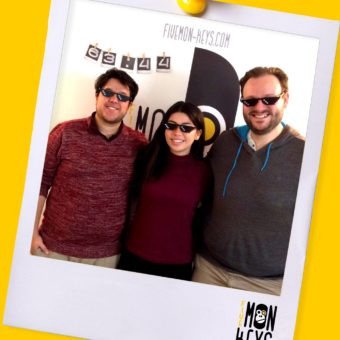 Our Experience
Five Mon-Keys was a really charming room in the center of Madrid – right next to the Plaza Mayor, so it is quite easy to integrate the room into some tourist activity. Our Gamemaster(s) spoke perfect english and we didn't have any issues with the language during the whole game.
Dr. Bloom's Experiments does have some minor spooky moments, especially at the beginning of the game, but we would not classify it as any kind of scary game. Our gameflow was good, there was an above-average variety of puzzles and tasks in the game. The game is quite immersive and has multiple transitions, which work well and are a nice surprise. 
Interesting detail – you can hear the noise of the street sometimes in the room, but it actually helps the room immersion and provides some extra sound effects. We would rate the room as medium difficulty and the ideal group size 2 to 4. We escaped with just a view minutes left on the clock, with happy smiles on our faces.
Score
Bears Escape - Five Mon-Keys in Madrid
Location -

8/10

Production -

7/10

Staff -

8/10

Fun -

7/10
Summary
One of our favourite games in Madrid – the location is good, our gamemaster was super nice and the game was fully playable in english. The game itself had some minor spooky moments, but no jump-scares or actors are in the game. We had a good time.
Where can I find them?
Have you ever played this escape game or one of their other rooms? Or can you recommend any other location for us to try? Please let us know in the comment section.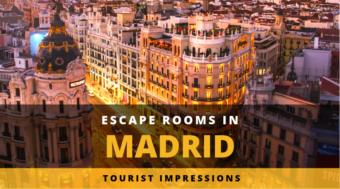 We spent New Years Eve 2017 to 2018 in Madrid / Spain. It was not a full-on escape room enthusiast trip, but we were able to combine a family adventure with as many escape rooms as possible. Naturally, we were not able to visit ALL Escape Rooms in Madrid, as there already are a lot of companies present. Never the ...
Read More
Also – check out and follow us on YouTube and Like our Facebook Page to stay up-to-date about our posts. Or check out our other Bears' Escape Reviews in our Escape Room Guide.