Moonscape: Amissa anima mea let us explore our personal nightmares. Did we escape the darkness and make it back into the light?
Escape Room Review

– Short Roar –
Moonscape: Amissa anima mea
Mondsee, Austria
Location: Herzog-Odilo-Straße 101, 5310 Mondsee, Austria
Games (reviewed): Duke Odilo (check Review here)
Games (reviewed): Amissa anima mea
Group: 2
Website: www.moonscape.at

Amissa anima mea
Terrible things are happening at Mondsee but nobody dares to talk about it. The inhabitants are too scared. People are disappearing and anyone who has tried to figure out why this is happening and how to stop it … never returned alive.

Your trip to Mondsee turns into your biggest nightmare. You will find yourself in the dark, captured by a mysterious figure. But who is HE? And more importantly, how can you escape? The blood in your veins freezes as you realize where you are. But you have to hurry and try to think straight: you have to escape your own personal hell and save your life.

Thrill and adrenaline become your closest confidants. You are on your own, because here … nobody will hear you scream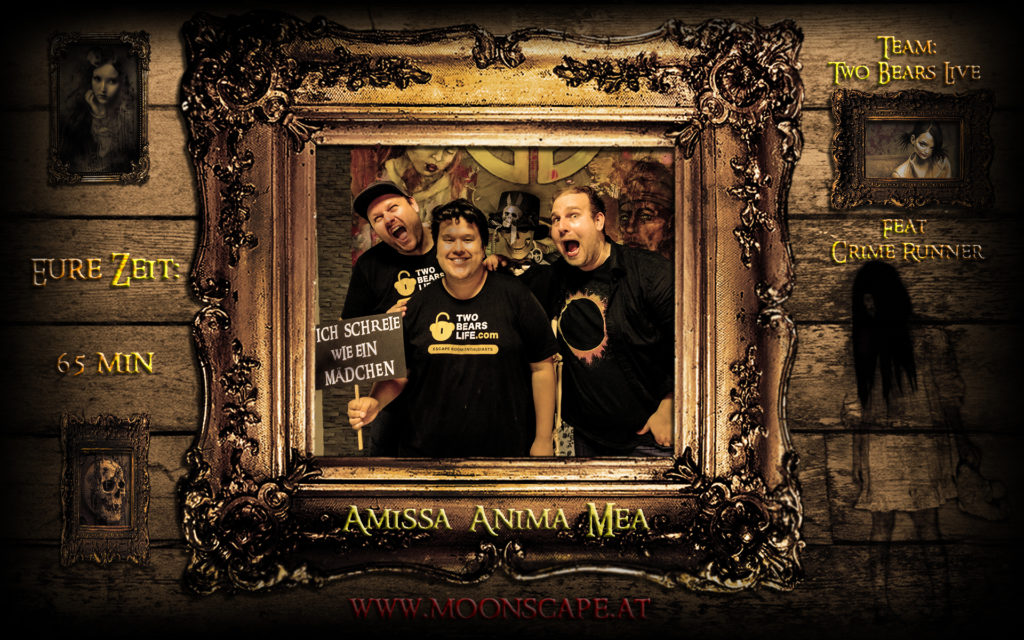 Our Experience
It is not often that we decide to dedicate a whole review post to just one room of an escape room company, but when we do, it means that this game is special to us.
Moonscape is located in Mondsee, Austria and offers two games. The first one we played was Duke Odilo and you can check out the review here. Their second game is called "Amissa Anima Mea" and it is a 90 minutes horror escape game. If you don't like to be scared, this might not be the room for you. As you might know by now, Alex doesn't like scary games either, so we decided to bring along a friend (Lukas from a little escape room company Crime Runners) as backup and asked if Alex was allowed to leave the room if it got too scary for him. Because the owners of Moonscape are one of the nicest owner-couples we have ever met, this was not an issue at all.
After the mandatory game briefing, we were asked to line up and got blindfolds. As an experienced escape room enthusiast, you know that you are either in for a ride or that you might have run into very extra owners that just wanna give you a creepy start to a not very creepy game. Thankfully the first option was the case here. After being led into the room and asked to sit down, we heard to intro story which told us the background of Amissa Anima Mae and how we ended up in our personal nightmare. This briefing was already part of the game and had some nice surprises for us, although it did run a bit long overall.
Once we were allowed to take off the blindfolds, we found ourselves in a dark room that was very nicely decorated. The atmosphere was spot on and it took Alex only around 2 minutes into the game to leave the room. With one man down, it was up to Lukas and me to fight the evil spirits and find our way back to the light.
Although the game area itself is not very big, the room was utilized very well. The puzzled and tasks were fun and forced us to explore each section of the room very thoroughly, finding a very good balance between creepy decoration and game elements so we never really felt lost. They also use a very clever light system in the room which helped us whenever we didn't know if we were doing the right thing. Overall, the game-flow was great and every time we had to explore a dark area, I was very glad I was able to take a little light with me.
The highlight of the game surely is the ending which is designed in a very clever way: it ties up the story while also gives you a final last scare in which you will have to gather all nerves to escape the room and open the last door.
Overall, both of us fully enjoyed this experience. It might not be the biggest or most elaborate horror escape room we have played, but you can see the love and dedication the owners have put into it. The room decoration is spot on and you don't feel like you just entered a generic haunted house. The light effects are great, the sound is on point and the cobwebs in the room bring the final touches.
If you can handle dark and scary rooms, this is room is an absolute highlight in Austria. We recommend playing this game in a group of 2 to 4 people.
Score
Bears Escape - Moonscape in Mondsee
Location -

7/10

Production -

8/10

Staff -

10/10

Fun -

9/10
Summary
Moonscape is located near lake Mondsee – a touristic region of Upper Austria. They offer two rooms – Duke Odilo (Herzog Odilo) and this one: Amissa anima mea. Although Amissa anima mea is not the most elaborate horror escape room we have ever played, you can see the love and dedication the owners put into it. We enjoyed the game from start to finish and if you like horror escape rooms, you should check this one it. It is one of the highlights in Austria for us.
Where can I find them?
Have you ever played this escape game or one of their other rooms? Or can you recommend any other location for us to try? Please let us know in the comment section.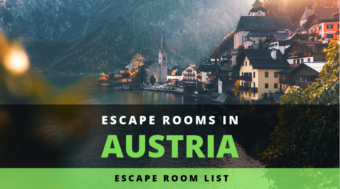 While most Escape Rooms in Austria are indeed located in Vienna, more and more venues open up all around the country. We have compiled a list of all the Escape Room companies in Austria as well as the number of Rooms each venue offers. Vienna / Wien If you are looking for Vienna rooms, please check out our more detailed ...

Also – check out and follow us on YouTube and Like our Facebook Page to stay up-to-date about our posts. Or check out our other Bears' Escape Reviews in our Escape Room Guide.