Our visit to Save Amsterdam proved that the experiences of fellow Escape-Room-Enthusiasts don't always repeat for everyone. After reading great things about this company, we did not expect what happened.
Escape Room Review

– Short Roar –
Save Amsterdam
Amsterdam, Netherlands
Location: Cornelis van Alkemadestraat 69–73, Amsterdam
Games (reviewed): Black Hole
Games (not reviewed): Zombie Apocalypse, Water Flood
Group: 2
Website: https://saveamsterdam.com/en
Black Hole
A Black Hole is threatening to destroy Amsterdam. Your mission is to save everyone…
Our Experience
To be quite frank – we had a really bad time in this Escape Room. We were so pissed after the game that we didn't even ask if our gamemaster could take a photo and just left. If you know us – thats a big deal. So what happened?
It actually started the moment we arrived at the venue, where we couldn't find the right entrance door – it should have been an indication that this was not a good day for us. After we arrived, we barely got a word from the host, who just said we should put out jackets on the hanger and after a couple more minutes instructed us into the room with a quick intro and the info that the gamemaster will monitor us and we could ask for hints if we waved with our hands and instructions will appear on a screen.
The first impressions of the room itself were nice – it was spacious and had a nice theming with space and planet-connecting puzzles and riddles. There was already a lot to do in the first room, so we spent quite some time exploring, searching and solving various elements. We continued on to the second room and got fairly stuck – to the point were we spent most of our remaining game time on a puzzle we thought we had all the elements to solve it, but we didn't. We tried to get help from the gamemaster, but the only responses we received were more confusing than helpful.
In the end, we managed to enter the final room of the game that had even more puzzles and tasks in it than the first room. Sadly, we didn't have time to finish a single puzzle down there. In the end, this room does have the potential to be great – sadly we played very badly on that day and received zero help or guidance from our gamemaster.
After finishing our game, we left the room and although we saw a ton of photos of other teams on the wall, we were not asked to take a photo. Both host and gamemaster just seemingly ignored us to the point were we just left disappointed and – yes – a bit pissed for this kind of treatment (before, during and after the game).
Not surprisingly, we can not recommend this venue.
Sidenote: Ken from thelogicescapesme.org really liked the room – so you may want to check out his review. Maybe we just had really bad luck.
Score
Bears Escape - Save Amsterdam in Amsterdam
Location -

6/10

Production -

6/10

Staff -

2/10

Fun -

4/10
Summary
We played one of the 3 rooms Save Amsterdam has to offer – the Black Hole. Although the room has a lot of puzzles and tasks in it, we did struggled so much in the first half that we couldn't even try our hands on the last third of the room. Our experiences with the host and gamemaster that day were sadly very bad – but we did hear good things from fellow Escape Room enthusiasts. So please take our Review with a grain of salt and check Ken's Review I linked above.
Where can I find them?
Have you ever played this escape game or one of their other rooms? Or can you recommend any other location for us to try? Please let us know in the comment section.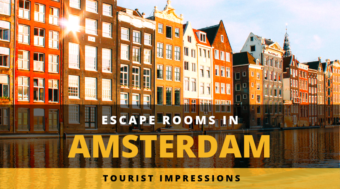 Tourist Impressions from Escape Room Enthusiasts If you are looking for the best Escape Rooms in Amsterdam, you will be happy to find out that the city has a vast and high quality list of Escape Rooms that are worth checking out. Like always, we have not played all Escape Rooms Amsterdam has to offer, but we tried to make ...

Also – check out and follow us on YouTube and Like our Facebook Page to stay up-to-date about our posts. Or check out our other Bears' Escape Reviews in our Escape Room Guide.