Have you heard that Escape Rooms can also be great for team building? I am sure you did. When our company planned a trip to Malta, we couldn't wait to arrange an Escape Room for the whole team. That's how we found Can you Escape? Malta. Let's get this Review started:
Can You Escape? Malta
Fgura, Malta
Location: 297 Triq il- Merhba, Il-Fgura FGR 1836, Malta
Games (reviewed): Spaceship Escape, The Pub Escape
Games (not reviewed): Classroom Escape
Group: 12 (6 per game)
Website: www.canyouescapemalta.com
Our Experience
We normally do Escape Rooms just as the two us of or with our friends, but there is the whole side of company team building that works really well with Escape Rooms. We have not really had a chance to try that, but once we found out that most of the team would be coming to Malta, we contacted Can You Escape? Malta directly to ask for the possibly to do 2 rooms simultaneously and back to back, so we could keep a group of 12 people busy at the same time. Thankfully, that was no probably at all.
The whole team was pretty excited – when it was actually time to go there, we only faced one minor issue: how do we get from our hotel, which was located at St. George's Bay, to the location of Can You Escape? Malta in Fgura? Malta is a small island – but it is not as small as some people might think.  Since we were facing a 12 km car ride, we decided to rent a taxi. There was some public transport options, but it would have taken us  an hour from our hotel. It is closer to Valletta though – if you spend some time there beforehand, you could take a short bus ride to the Escape Room easily.
Once we arrived at the location, we were welcomed by a very friendly staff member and shown to a big waiting room. After randomly dividing our team in 2 groups of 6, we were ready for the introduction and shortly after – the start of the games. We decided to do 2 rooms simultaneously and back to back. That means we split up in 2 teams and each team did both rooms. We made it a team challenge, so whatever team had the shortest combined time in the end – wins. Nothing but a little extra challenge to work up the motivation. And obviously – we also made sure Alex and myself were not on the same team.
Spaceship Escape
"Ready for Launch in 5..4..3.. HALT! There's a problem – we need to evacuate the Spaceship!…Hold on a second, the doors are LOCKED!" – Ever imagined what it would be like to escape from a Spaceship? Our 'Spaceship' Escape Game takes you through a great escape adventure. Can you escape?
We started with the Spaceship Escape – one of the two rooms they had when Can You Escape? Malta opened. We played the game before they did some redecoration a short time ago – but when we played it, it was not the most stunning space ship we have played in. But you could still feel the SCI FI vibe and optics of the room.
Most of the puzzles and tasks were theme appropriate, although there were some items in the room that did feel (a bit) out of place. The level of difficulty between the puzzles was also varying quite a bit. Some tasks were very obvious, while we encountered others that were extremely hard to "get" – at least for our groups. Also – they had some interesting puzzles in there that did not feel fully thought-through: you could skip certain steps in puzzles once you realised what you were actually looking for.
Our game master was very nice and tried to stay on top of our game. She struggled quite a bit though since most of our team fell back to speaking german. In general, they do their best to listen to your conversations and will jump in, once they hear that you are going off in a completely wrong direction, which is great.
Most of the room did feel pretty linear to us. They offer the room for 2 to 7 people, but we would say the ideal number would be 3 to 4 maximum for experienced players.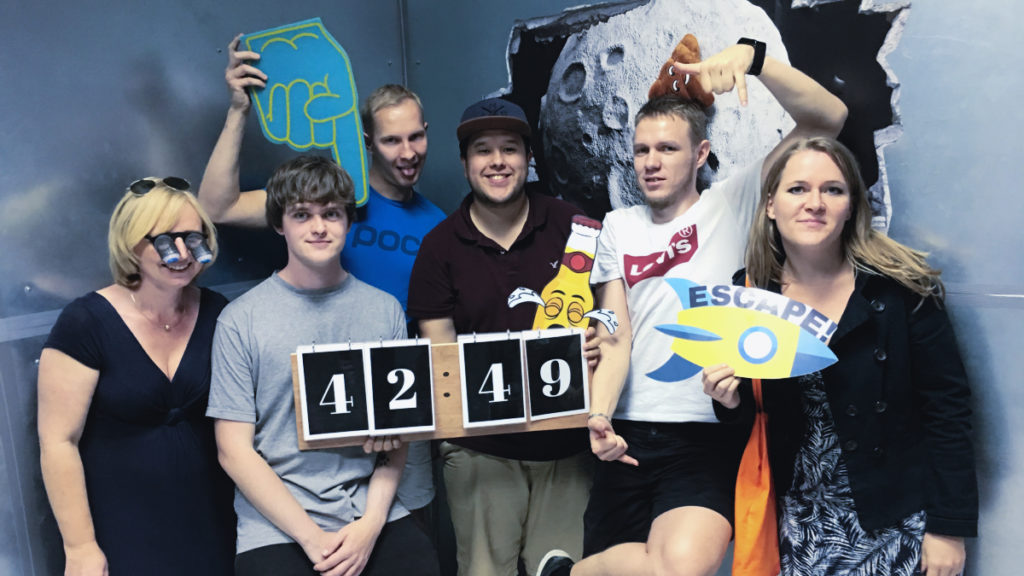 The Pub Escape
Having a beer with friends, until a crazy criminal comes in the pub, detonates a bomb and runs away leaving you and your friends LOCKED inside. He said the bomb will explode in 60 minutes. What would you do? There MUST be a way to escape! Our 'Pub' Escape Game takes you through a great escape adventure. Can You Escape?
The Pub Escape was their newest room when we visited and the theme was quite different to the standard escape room setting. The story of the Pub Escape does not make a lot of sense – but once you are ready to get over that fact, the room has quite a lot to offer. Since there is no real story here, you won't be able to find a lot of immersion in this room. On the other hand, the Pub room is filled with lots of puzzles and tasks – plenty to keep everyone in our group of 6 busy. Most of the puzzles are not linear, so your team can split up and work on different parts, while still having to come together and share their results to continue further in the room.
While I was quite sceptical of the room in the beginning – I personally do prefer rooms with more story and immersion – it was the perfect room for our team. The puzzles were not easy and we needed some combined brain power to solve some of them.
In the end, we made it out in a really good time and actually set a new record (at the time).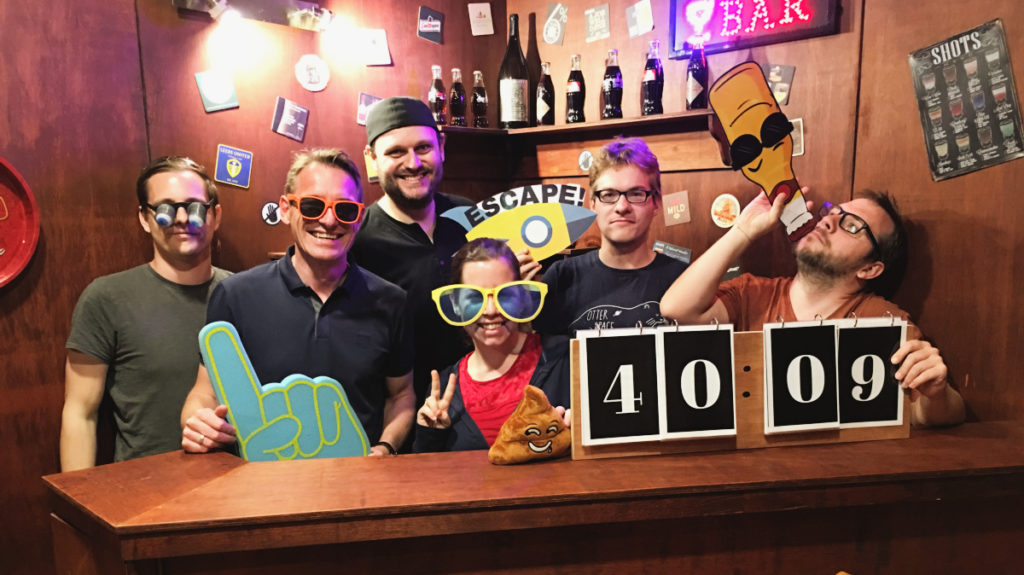 Final Roar
We did approach our visit to Can you Escape? Malta differently than our normal visits to Escape Rooms because we went with our company. Using Escape Rooms for team building is an excellent tool to work on your team dynamics and it did the same for us. It was the highlight of the company trip for most of so – so if you have the chance to suggest one for your team, go for it. 
But back to Can You Escape? Malta and the two rooms we played there. Both rooms still work with a lot of traditional locks and/or digital keypads – although both rooms had some "gen 2" elements in them as well. Overall, the production values were not super high end – but okay and appropriate for the area. You always have to consider the competition and Can You Escape? Malta is one of only two Escape Room companies on the island of Malta – so your options are quite limited anyway.
Can we recommend Can You Escape? Malta? Absolutely. The team was super nice, the game masters did their best, although they struggled because we mostly spoke a foreign language. We had fun in both games, although the Space Ship (and Class Room) are clearly the beginner rooms, while the Pub is a room for more experienced players.
If you are a smaller team, start with the Spaceship – if you are a larger team, go right for the Pub Escape. Just don't expect a big story.
Score
Bears Escape - Can you Escape? Malta in Malta
Location -

6/10

Production -

6/10

Staff -

8/10

Fun -

7/10
Summary
Can You Escape? Malta is located a little bit outside of the touristic centre in Malta – but it is reachable with public transport as well as per Taxi. They offer three games – our favourite was the Pub Escape.
The games are not story driven but focus more on puzzles and tasks. If you look for immersion, you might need to dial down your expectations in this rooms. If you like puzzle heavy rooms, this is the Escape Room company for you.
The team was nice, they offer a big waiting area and our whole group enjoyed the team building event very much. If you like Escape Rooms and you come to visit Malta, Can You Escape? Malta is worth a visit for sure.
Where can I find them?
Have you ever played this escape game or one of their other rooms? Or can you recommend any other location for us to try? Please let us know in the comment section.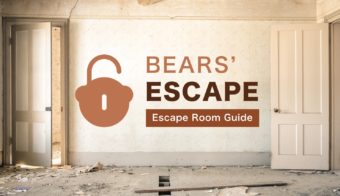 We love to travel and we are addicted to Escape Room Games. For that reason we started to write our popular Bears' Escape - Escape Room Reviews, where we tell you guys which rooms are worthy to be checked out and which ones are simply not. This page will give you a "rooms by country" overview, so you are able ...

Also – check out and follow us on YouTube and Like our Facebook Page to stay up-to-date about our posts. Or check out our other Bears' Escape Reviews in our Escape Room Guide.