Room Number 13 aka Izba číslo 13 sent us to investigate a crime scene and booked us a flight to a Mayan Temple. How did we like our Escape Room Experience?
Escape Room Review

– Short Roar –
Room Number 13 (Izba číslo 13)
Bratislava, Svlovakia
Location: Cintorínska 7, Bratislava, Slovakia
Games (reviewed): Temple of Skull, Crime Scene
Games (not reviewed): Battle Arena, Project Humano
Group: 3
Website: www.izbacislo13.sk/ba
Crime Scene
You are sent to a crime scene of a murder. You thought your job is to find out what have happened and who is behind it. But after time you are finding out, that your role has inverted. Persecutors are becoming victims. You came into the trap. You have one hour to escape. Can you make it?
Temple of Skull
As a group of adventurers, you went to an expedition to Mexico to reveal the mysteries of an ancient civilisation of Mayans. You will find yourselves in an ancient and mysterious temple, also called the Temple of skulls. As the legends says, in its heart is hidden an artefact so powerful that it can guarantee its owner endless life and divine power. But the temple itself is secured by a number of traps and puzzles and your path is transformed into a battle for survival. Can you escape or remain imprisoned in the past forever ?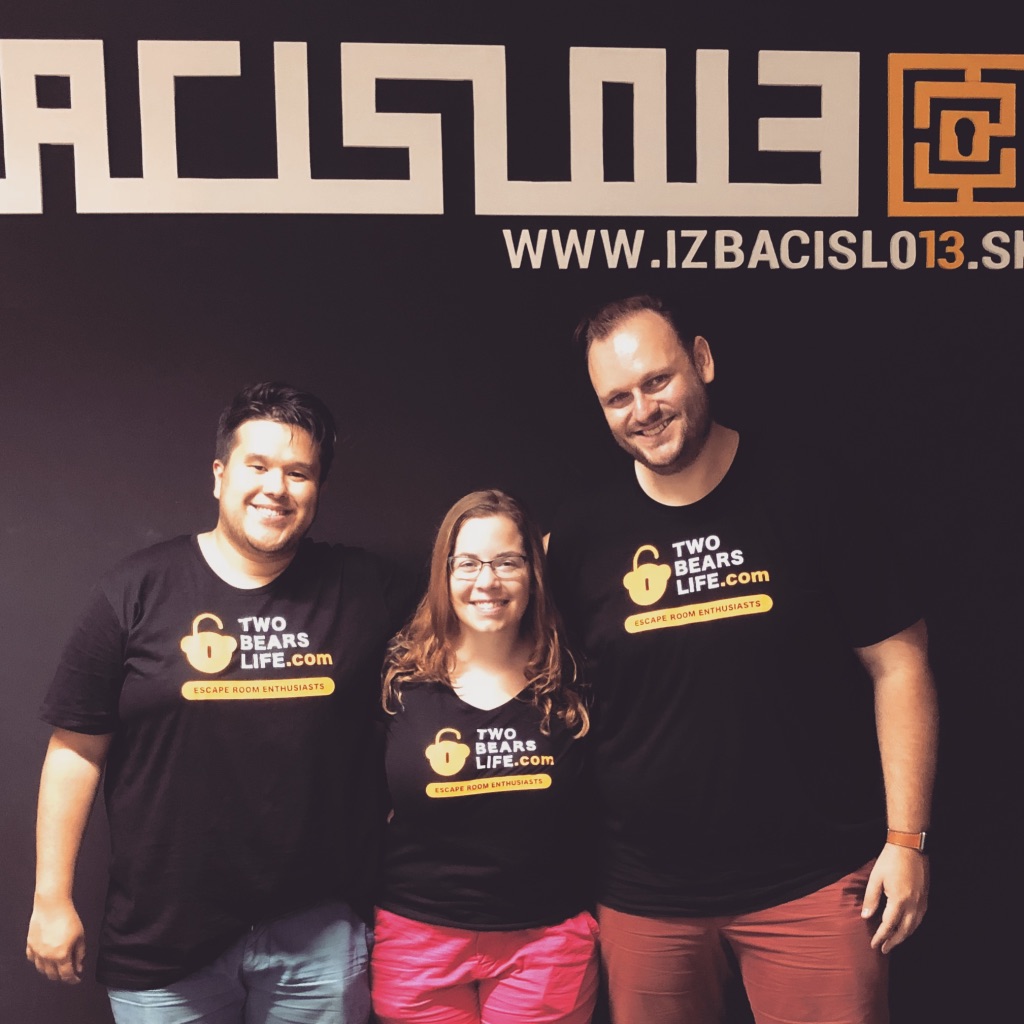 Our Experience
Room Number 13, or Izba číslo 13, is also located close to city center and right next to it you will find the famous Blue Church of Bratislava, which will give you a nice photo moment before or after you head to the Escape Room. One we arrived, we were welcomed nicely by the owner of Room Number 13. After chatting a bit, we got ready, stored our stuff and started with the first room.
Crime Scene is a pretty straight-forward name of the game. You will find yourself in an apartment without much of further story and are asked to find out what happened and who did it. The CSI team has already marked the murder-scene and numbered the evidence – but we were clearly asked to come to the scene to open and solve the ridiculous amount of puzzles and padlocks on the crime scene.
While the room is feel very old school, we did actually quite enjoy the classic escape room flow of searching the right clues to connect the dots and opening the matching padlock. Although the sheer number of padlocks were a bit discouraging, the game design itself guided us pretty well through the game and didn't lead us into dead-ends too often. We did get stuck a couple of times though, but once we asked, we got the nudge into the right direction from out gamemaster and we were able to continue every time. After some twists and turns, we escaped after 48 minutes.
Temple of Skull was the second room we did and we were very surprised by the room itself. The jump of quality in set design and immersion from the first room was quite noticeable. Although you could still see that you were not really trapped in a Mayan Temple if you really wanted to look too hard, we did enjoy the room design a lot. The puzzles were quite challenging and our lack of searching-skills fooled us again quite early in the game.
Although the room(s) of the the temple were not too big, we did feel we had enough space to move around as a 3-person team. There was also some nice physical puzzles in the room, which is something we always expect in Temple-Rooms but rarely get – so thumbs up for that. We did escape the Temple with the lost treasure after 59 minutes and a heart-beating final.
Granted, both games had some flaws: Crime Scene relies a lot on locks – with some boxes having up to three padlocks on them. Temple of Skull needs you to search very precisely in a gloomy place, which could get a bit frustrating. On the other hand, we had a great time and our gamemaster did an amazing job for both rooms.

We also heard the funniest instruction of all time when we got our intro for crime scene: "Please dont lick the lightbulbs." Who would do that? But yeah, a lesson for life.
Sidenote: they also offer a Battle Arena game, which you can play with 4 to 10 people, where your the two rooms are only separated by a glass wall, so you can see each other and interact. Sounds very interesting, but since we were only 3, we couldn't do it. If you have a chance to check out the room, let us know how it want.
Score
Bears Escape - Room Number 13 in Bratislava
Location -

7/10

Production -

7/10

Staff -

8/10

Fun -

8/10
Summary
We played 2 of the Escape Games Room Number 13 has to offer and although both of them had some flaws, we did enjoy our time in the games a lot. Definitely worth a visit if you are in Bratislava and look for some Escape Room fun.
Where can I find them?
Have you ever played this escape game or one of their other rooms? Or can you recommend any other location for us to try? Please let us know in the comment section.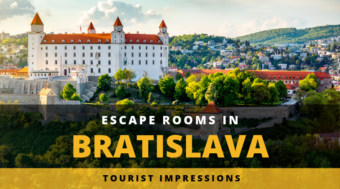 Tourist Impressions from Escape Room Enthusiasts Bratislava is the capitol of Slovakia and fairly close to Vienna - so we decided to visit the city for a weekend and check out what Escape Rooms Bratislava has to offer. And to be honest - we were very positively surprised by what we found. Considering the lower prize point and the close ...
Read More
Also – check out and follow us on YouTube and Like our Facebook Page to stay up-to-date about our posts. Or check out our other Bears' Escape Reviews in our Escape Room Guide.