It has been some time since out last Bears' Escape post – but that doesn't mean we have stopped playing escape rooms. Absolutely not. We have had a super busy summer, traveling to different cities like Zürich, Budapest (twice), Prague, Vienna (well, that's not really impressive but nevertheless) and Ankara. The last destination was the topic of our latest blog post and since we actually waited quite some time to get the pictures from the rooms in Ankara, delaying factors just kept popping up. But on the other hand, the waiting time also gave us the chance to experience a lot more rooms in the last couple of weeks, therefore being able to actually giving us a better foundation to rate the rooms on a more informed basis.
It also gave us the chance to "fare out the weed". At least for now, we wanna start with the best of the best, the rooms that are still as fresh in our head as if we would have played them yesterday because of their uniqueness, greatness or just pure joy they gave us.
So let's stop rambling – let's start the review.
"Kripto" in Ankara
Location: Bestekar Sk. No:45, 06680 Çankaya/Ankara, Turkey
Game: Kripto
Group: 2 People
Website: www.kriptoankara.com
Our Experience
It all started pretty innocent: We were on the way to a different escape room which turned out to be under renovation at the time of our arrival. Luckily, the owner was on location and opened the door for us, informing us that we were not able to play this room but offered  to go to his other room right across the street. Happy to play, we just said "sure" and of we went. When we finally asked him what the theme of the other room was, he told us "Oh it is like Hostel – do you know the movies?"
So, naturally, we followed the stranger up into a dark flat in a city we didn't know too many people. Crazy, right? Well, we actually  got quite nervous when he told us that we would be chained up at the beginning of the game. But since we were just two people, we were able to choose if we wanted to start apart or together … or more like… not THAT far apart.
I don't want to lie – we got scared a little, but since we were there and ready to play, we agreed to be blindfolded and the game started. Alex, blindfolded and chained to the wall in one room, me blindfolded in a small room next to his. The goal of the game? Escape the rooms "alive".
Like always, I will not give away any details of the game. Let me just say, this room was the first "Haunted Escape Room" we have ever played. Like – EVER. We were basically haunted escape room virgins. So it must have been a lot of fun for the guy to hear us scream for our lives when he scared the living hell out of us … more than once.
Final Roar
We truly had an amazing time in this room, although from now on we will always ask if the game we are playing is haunted or not. Going into this game with the innocent eyes of the unknown gave it a special kick of not expecting this kind of game. Of course, we didn't get hurt and in the end, it is "just" a really well done escape room with a scary theme. The game master and owner was such a nice guy who clearly enjoyed his job and we will forever remember this room as one of the most special escape room experiences we have played (at least in the last year).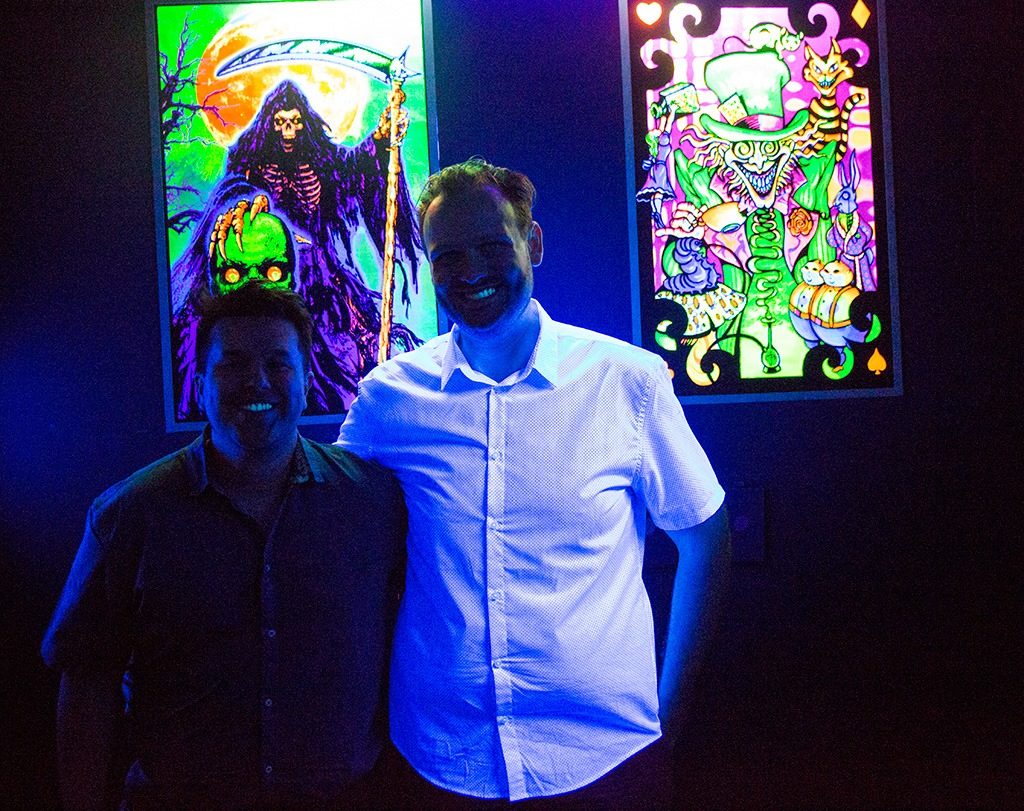 Score
From now on, we will try to give a number score in the following criteria between 1 and 10. Of course we try to be objective, but nevertheless, it is just our opinion and if you don't agree, we would love to hear from you in the comment section.
Kripto in Ankara, Turkey
Location -

8/10

Production -

9/10

Staff -

10/10

Fun -

9/10
Summary
It was fairly close to our hotel – which in our case was good. We could walk there, although we would never have found it, if the owner wouldn't have taken us there. It was close to one of the bigger shopping streets in our area, so that's a plus.
The game consists of multiple rooms with very different kind of riddles – there are hardly any locks involved (although there are some). The rooms are decorated with a lot of details and you feel genuine fear in the dark rooms. The only negative point I could point out is the fact that the game is not really translated in english – although there are not THAT many clues and the ones we didn't understand, the game master translated it so us over the walkie-talkie, which was totally fine and did not interfere with our game flow at all.
Since we didn't schedule our game, we were super lucky we could play. The owner was really super nice and excited about escape rooms himself. He couldn't have given us a better experience.
Like written above, this was one of our all-time favourite escape rooms ever. You should be aware that it is a haunted room, so if you don't want to get scared, don't do it. Everybody else should totally go for it.
So where can I find it?
[mappress mapid="2″]
Have you ever played this escape game? Or can you recommend any other location for us to try? Please let us know in the comment section.