The last escape room we visited in Stockholm on our Sweden weekend was Exit Games Stockholm. Like on the whole trip, we only chose one room of the venue because of our time constrains. We liked the description of their "Valhalla" room a lot, since it promised some cultural connection to the location. Did it deliver on that promise? Let's delve into it and get the Escape Room Review started:
Exit Games
Stockholm, Sweden
Location: Västerlånggatan 42, 111 29 Stockholm (Gamla Stan), Sweden
Games (reviewed): Valhalla
Games (not reviewed): The Collector, Mission Undercover, Crazy Grandma, The Cell
Group: 2 People
Website: www.exitgames.se
Our Experience
Like Questrooms, Exit Games Stockholm also has two locations in the city. We choose to make a reservation for Valhalla, so we went to the venue in Gamla Stan. This is a perfect spot for tourists, since Gamla Stan, as the old city centre, is one of the biggest tourist spots and the chances that you will spend time in the area are pretty high. Naturally, you have to get out of the subway in the station Gamla Stan and walk for about 5 minutes to reach the door. Like in the other Escape Room companies, only the entrance was above ground, the rest of the business was downstairs on a basement level.
We were greeted by one of the owners, who was extremely welcoming and excited to meet us. After talking a little bit about their rooms, we quickly settled in, left our backpacks in their small reception area and started a short intro for Valhalla.
Valhalla
The great viking Grimulv and his brave troop found themselves in a tomb after death in a battle. The tomb is dark, narrow and quiet – it is really boring. Can you escape? There is a way out – find the way to Valhalla, achieve eternal life and party forever! But there is also a downside route: if you fail – the evil god Hel will take you to hell instead. Group your team, put your minds together and be creative! During the adventure you will also get familiar with the ancient Scandinavian heritage! You will find out how to meet all these heroic Gods!
Before entering the room, each member of your escape group will be handed a name tag and a helmet – you feel like a real Viking right away. We had to crawl into the first area of the game and arrived in a pretty cozy space. Of course, as a two player team, we had enough space, but i can imagine that it gets pretty tight in there with 6 people. On the other hand, having more people might actually get you out of this area a little bit faster and it will definitely be of help in the later portion of the game.
The puzzles and games are in some way or form all connected to Valhalla and the stories about Norse Gods . There is some technology in the room that did not really fit with the theme, but on the other hand, Valhalla is a mystical realm anyway, so who are we to judge about what should be there and what shouldn't.
After solving the first portion of the game, the players will enter a wider area which allows bigger groups to split up and work on multiple puzzles and tasks simultaneously, which is always nice. The puzzles are connected with a story though, which guides you though the puzzles and gives you (some kind of) direction.
Since there are a lot of puzzles visible once you enter the second stage, we did get confused from time to time. For us, it was not always super obvious, which parts connected to the same puzzle or task – although the room did overall do a good job with that, considering the amount of stuff we had to do. We needed some help from our mighty Gamemaster, but thanks to some tips, we finished the room literally in the last seconds and were indeed able to enter Valhalla.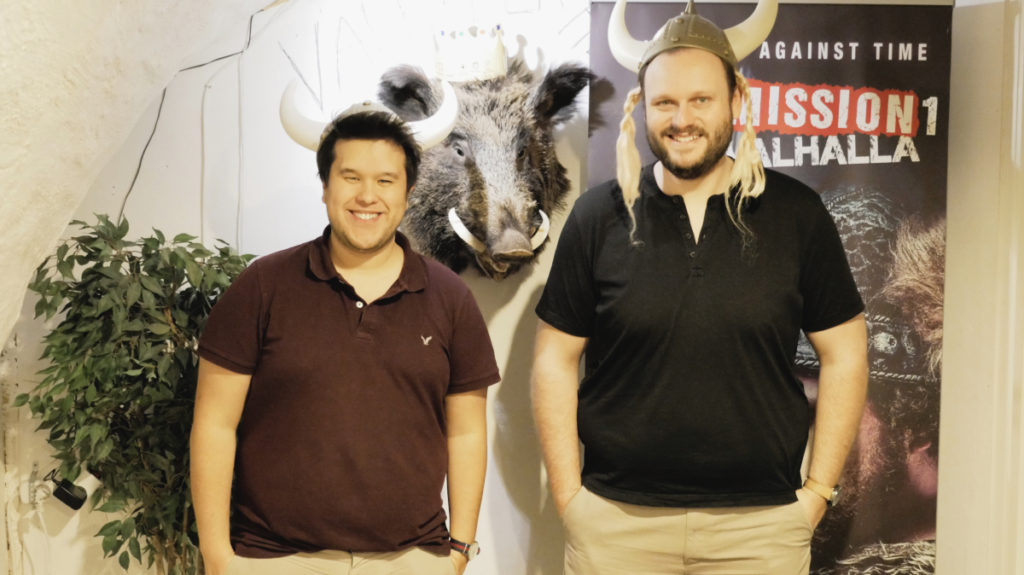 Final Roar
Quite frankly, this was the best room we played in Stockholm on the weekend when we were there. Sure, it was not the most advanced or most interesting room we have ever seen, but the game was fun and we really enjoyed the Valhalla setting. It is always great for tourists (which we were) to be able to enjoy rooms that also have some connection to the location. It does not make an escape room great automatically, but it adds an extra dimension that we enjoyed a lot.
Exit Games Stockholm actually offer more rooms, sadly, we were not able to check out the others. The Gamla Stan location is perfectly positioned for tourists, but the prime location also means that the lobby as well as the rooms itself were not the biggest we have seen. The Valhalla room is a great room for bigger groups though, since there is a lot of stuff to do in the second area. For a two person team, it is absolutely doable, but it got pretty stressful in the end.
The game itself shows some age and not every item is really theme appropriate, although we did see the love and care that was put into decorating the room. The gamemaster / owner was great and very helpful when we needed him. Regarding their clue system: if you need help, all you need to do is ask, the answer will be given over speakers, which we always appreciate.
All in all, we had a great time in the room and appreciated the little trip to Norse culture.
Score
Bears Escape - Exit Games in Stockholm
Location -

8/10

Production -

7/10

Staff -

8/10

Fun -

8/10
Summary
We played "Valhalla" in Exit Games Stockholm. The location is perfectly situated in the heart of Gamla Stan and easy to reach. We loved the connection to the cultural background of the area and experiencing a new theme is always a plus too.
Valhalla is a great game to play with a bigger group, because you will be able to split up into smaller teams during the game to solve multiple puzzles at the same time. Not every item is theme appropriate, but they did do a good job overall with the decor. The owner / gamemaster was really nice, the clues will be delivered over speakers and the game was fully playable in english.
Where can I find them?
Have you ever played this escape game or one of their other rooms? Or can you recommend any other location for us to try? Please let us know in the comment section.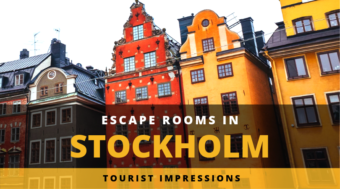 We love to travel to various cities and try to do as many escape rooms there as possible. We spent a weekend in May 2017 in Stockholm, Sweden. We were limited on time, but we managed to squeeze in some Escape Rooms. Of course, we could not cover every venue ...

Also – check out and follow us on YouTube and Like our Facebook Page to stay up-to-date about our posts. Or check out our other Bears' Escape Reviews in our Escape Room Guide.