Fox in a Box Madrid is the another location of the beloved Escape Room Franchise. Did it hold up to the high standards we know from other cities?
Let's find out and get this Escape Room Review started:

Fox in a Box
Madrid, Spain
Location: Calle Encomienda, 12, 28012 Madrid
Games (reviewed): Madrid Central Bank, Zodiac Killer
Games (not reviewed): Prison Break, Bunker, Zombie Lab (we have played all three of them in Vienna – read about them here)
Group: 3
Website: www.foxinaboxmadrid.com
Our Experience
First things first – we actually really like the Fox in a Box Franchise. We have heard really good things from enthusiast friends about it and we always had a great time in the Fox in a Box rooms in Vienna. So we had high expectations when we visited the branch in Madrid.
Sadly – we had mayor issues with the Madrid Central Bank room. It got so bad that we complained per Email afterwards and we got invited back free-of-charge to play the Zodiac Room, which was very much appreciated and offered the "Fox in a Box" experience we were expecting in the first place. So what happened? Let's get into it:
Madrid Central Bank
Only a few people know that the Headquarters of the MCB are located in an old building in the center of the city. Even fewer know about the secret, that this place holds a strongly secured safe that guards an enormous treasure. You and your thief-colleagues are some of the few well-informed people. Blackmailing the security guard led you to the main door and a 60 minute power-off window frame(no alarm). You only have one chance to get to snatch the swag, and to write your names in the Big Book of Thieves forever! Would you take it?

We started the game in a group of 3, the two of us and an escape room newbie. During our briefing, we were told to be careful, since there might be a security guard checking the Bank offices, but we will be warned. After that, we were led into the gameroom and the clock started. The decoration was on par with Fox in a Box standards, it was appropriate to the theme of the story and the room did not feel overloaded. Nevertheless, we had a really hard time to get into a flow und struggled throughout the game to know what to do.
The hint – system in Fox in a Box is time-capped, meaning that you can press a button to get a hint, but than you have to wait 10 minutes to get more help. Which means you are hesitant to use a hint if you are not even actively working on a puzzle. Our progress felt slow, but fully stopped when we encountered a "broken puzzle" in the room. We actually solved it, but the mechanic to release key didn't work properly (or as it turned out later, it actually did open, but the key didn't fall where it should have, so we never heard or saw it) Which means we lost a TON of time on this one puzzle. We were not 100% sure we did the right thing, never got a feedback from the box and than had to argue with the gamemaster that we actually solved it.
Once she finally believed us, they brought us a new key in a funny but also very time consuming way (although i am pretty sure this interaction is part of any game anyway. But sadly, the broken puzzle was not the only problem we had in the room.
We continued with the game, encountering more puzzles that didn't seem super logical to us but – ok. When we entered the last room of the game, all hell broke loose. The alarm system was way too loud, preventing us from properly continuing with the game. The gamemaster didn't respond or hear our complaints (which wouldn't surprise me, maybe she also just heard the alarmsystem) and once the game was finally over (thank god, the alarm was horrible), she just shrugged her shoulders. Sadly, we didn't properly see the last third of the puzzles, but to be honest, we were really glad to get out of the room.
Zodiac Killer
The new tour "Into the skin of an assassin" has arrived in the city!
Have you ever asked yourself how was the life of one of the most disturbed and intelligent minds of the last years?
Would you like to feel what his victims felt?
Could your mind actually resist it?
Then, and only then… this tour is made for you!
Feel the fear… and escape… if you can….
On our return visit, we got to play the Zodiac Killer room. We asked them to turn down the scare factor, which was not an issue for them at all – thank you Fox in a Box Madrid.
The intro to the game is really cool and I can't tell you more to not spoil the experience. The room is also well decorated and works overall. The puzzles were exciting and all three of us had enough to do and enjoyed exploring the room(s).
Contrary to the Bank Heist, we got in to a good game flow right away and the tasks and puzzles were well aligned. 3 to 4 people would be an ideal group size for this room. And you can ask them to turn down to scare factor, which is super cool. The version we played was not scary at all.
All in all, we were happy that Fox in a Box invited us back, because we had a great time in this room
Final Roar
Full disclosure about the bank heist: we struggled a lot and probably didn't didn't have a good day – so the missing game flow might be partly on us. But the broken puzzle elements and the sound issues were super time consuming. We complained on location, but didn't get a proper apology or explanation, so we were in a bad mood when we left.
Because we know Fox in a Box from Vienna, we were shocked and wanted to hear some feedback, so I wrote them an email. They answered quickly and nicely, offered an apology and an explanation for the key – as well as the sound issue: the key fell to the floor and the soundsystem was new and not properly adjusted yet. Sure, stuff happens, but we felt left alone by our gamemaster and cheated after the game and she didn't look like she cared. Fox in a Box actually has one gamemaster per room, so her handling of this situation was the main issue for us. Seemed like she didn't know how to deal with the situation.
Would we recommend the Bank Room after this experience? Maybe – but it is really hard to answer that question. Aside from the key and sound issue, we still struggled throughout the game and never really knew what we should do. Those issues can be helped with a game master who helps you along, but that didn't happen for us.
The Zodiac Killer room, on the other hand, was exactly what we wanted from a Fox in a Box game and we really enjoyed it.
In general, Fox in a Box has one of the biggest waiting areas we saw in Madrid, so it was not a problem that we brought our grandma to the second game and she could just wait there. Everyone was super nice, but they do handle a lot of people, so don't expect a lot of interaction before of after the game with your gamemaster.
All in all, they did handle our complaint good – although it would have been better if that solution would have been offered on site. We know Fox in a Box and it's generally a good and trustworthy Franchise – we assume that the Puzzle Box and Sound problems are long gone.
Score
Bears Escape - Fox in a Box Madrid
Location -

7/10

Production -

6/10

Staff -

7/10

Fun -

8/10
Summary
Generally a top escape room location for tourists to visit in Madrid, we did have major issues in the Bank-Heist room that ended in a really bad experience for us. After complaining per E-Mail afterwards, we felt like Fox in a Box really cared and playing the second room gave us the Fox in a Box experience we like.
The games are in general well designed and can be played in english without a problem. Sadly the technical issues in Bank Heist prevented us from putting Fox in a Box in one of top positions in Madrid for us.
Where can I find them?
Location – Cuesta Santo Domingo
Location – Calle Infantas
Have you ever played this escape game or one of their other rooms? Or can you recommend any other location for us to try? Please let us know in the comment section.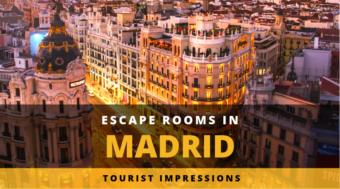 We spent New Years Eve 2017 to 2018 in Madrid / Spain. It was not a full-on escape room enthusiast trip, but we were able to combine a family adventure with as many escape rooms as possible. Naturally, we were not able to visit ALL Escape Rooms in Madrid, as there already are a lot of companies present. Never the ...
Read More
Also – check out and follow us on YouTube and Like our Facebook Page to stay up-to-date about our posts. Or check out our other Bears' Escape Reviews in our Escape Room Guide.