Sherlocked in Amsterdam has one of the best rated Escape Rooms in Europe with their game "The Vault". But can the room really stand up to all the hype?
Escape Room Review

– Short Roar –
Sherlocked
Amsterdam, Netherlands
Location: Damrak 247, 1012 ZJ Amsterdam
Games (reviewed): The Architect, The Vault
Games (not reviewed): –
Group: 4
Website: sherlocked.nl
The Architect
Hidden underneath the old Amsterdam Stock Exchange, we found a room that has not been used or altered since 1934. It appears to have been the old office of the architect himself, HP. Berlage.
Long has it been rumoured that Mr. Berlage was a high-ranking member of the most secretive Society of the Crossed Keys, a group of luminaries that guarded the world's most powerful secrets, until the year Berlage died in 1934.

No one has seen or heard of the Society or their secrets ever since.
We now suspect that the last remaining trace of the Society may be hidden inside this newly discovered room, and this is where we call upon your most immediate help.

Sincerely,
Sherlocked
The Vault
Are you ready to break in to Amsterdam's most difficult safe complex?
For this unique challenge, you will form a team of highly skilled thieves, and try to steal a mysterious object from deep inside a heavily protected safe.

Indeed, it's a 90 year old safe-complex with original antique vaults, but don't be fooled: its security system is state of the art.
You will infiltrate the complex, disable its security, steal the object, and get out. We've prepared a set of specialised tools for you, and our finest henchman will be at your service.

Beware however: should you get caught, we will deny any knowledge of this operation.
Our Experience
Sherlocked is not only one of the prime locations in Amsterdam – they host one of the top games of Europe with "The Vault". So if you can only do one Escape Room in Amsterdam, it should be The Vault (if you have a big enough group). We have been asked if it's doable for a group of 2 – and the simple answer is: no.
But let's back up a bit. Sherlocked offers two games. The Architect and The Vault. While "The Architect" is more of a traditional escape room, The Vault is something very special. We strongly recommend to play The Architect first, as it is a strong game in itself, but it pales a bit if you play it after The Vault. From playing The Architect, we remember the ending the most – it brought the group back together and was a super cool moment. The game is great on its own, has some really smart puzzles and clever ways to handle group dynamics.
But The Vault is the game that most of the enthusiasts in Europe are talking about and not without merit. The game merges immersive roleplay elements with an awesome escape room, which makes this experience very special. One important thing to know is that The Vault doesn't actually start at the Sherlocked location itself but in the Parkinglot of the Mall nearby – so don't worry if you think you are in the wrong location – you are definitely not. It is important that you bring a phone that will be able to send and receive text messages.
After the very strong and unique start of the game, you will enter one of the biggest escape rooms we have experienced – that's why it is also important to bring at least 4 people to this room. The location is awesome and they use it very well. The puzzles and task vary from logic-based to group-puzzles and even go very physical for at least one person in the group. If you are able to reach the last puzzle, you will encounter a very satisfactory ending to the game with a nice final moment that you will remember.
In the end, we did successfully escape The Architect as well as The Vault – and we were super proud of it. To sum it up: while the Architect is a good game on its own, the standout of Sherlocked as well as of Amsterdam is The Vault. Go for it if you have a chance, you will not regret it.
Score
Bears Escape - Sherlocked in Amsterdam
Location -

10/10

Production -

10/10

Staff -

10/10

Fun -

10/10
Summary
Sherlocked in Amsterdam has two very strong games with The Architect and The Vault. Both should be on your Escape Room to-do List – but The Vault is our ultimate favourite in has a place in our all-time favourites list.
Where can I find them?
Have you ever played this escape game or one of their other rooms? Or can you recommend any other location for us to try? Please let us know in the comment section.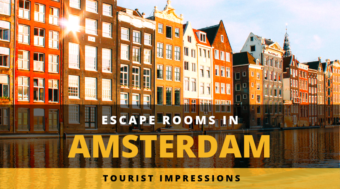 Tourist Impressions from Escape Room Enthusiasts If you are looking for the best Escape Rooms in Amsterdam, you will be happy to find out that the city has a vast and high quality list of Escape Rooms that are worth checking out. Like always, we have not played all Escape Rooms Amsterdam has to offer, but we tried to make ...
Read More
Also – check out and follow us on YouTube and Like our Facebook Page to stay up-to-date about our posts. Or check out our other Bears' Escape Reviews in our Escape Room Guide.